Photo: John Walker's HomePlanet
John Walker's HomePlanet is a Microsoft Windows application which calculates the position of the Earth, Sun, Moon, planets, asteroids, comets, and Earth satellites with high accuracy.
A friend who's a professional Astronomer recommended it to me and gave it quite a rap and now I'm giving it a rap, it's great, easy to use and has a brilliant help file with a huge amount of great reference material.
I'm about to abandon Windows, I've finally had enough so I'm moving to the light side, I'm getting a Mac and my only regret will be losing my much loved HomePlanet (thanks to my friend Sean, and John Walker) and perhaps my Lotus SmartSuite, but particularly my Lotus Organizer.
John Walker is a computer programmer and a co-founder of the computer-aided design software company Autodesk, and a co-author of early versions of AutoCAD… which explains the excellent nature of HomePlanet.
The above photo is in fact a feature known as 'Sky map'. The sky map shows the sky as it appears at the current time (real or simulated) above the location you've selected as the observing site. Stars visible to the naked eye and symbols representing the Sun, Moon (with correct phase), and planets currently above the horizon are shown in their correct positions in the sky. If you've selected an asteroid or comet to track from the Object catalogue and it's currently visible, the symbol representing it will also appear in the sky map. If you're tracking a satellite and it's visible from your site, its icon will appear at the correct position in the sky.
John Walker's real time Screen saver looks very similar to Sky Map, it, like it's parent software, is brilliant and free, you don't even have to register them… how great is that.
Website: John Walker's HomePlanet
"In the mid 70s, an aspiring theoretical physicist made what he and many others feel is the most important discovery in the world. This very … all » significant film is about the resulting invention, one that can author all subsequent ideas, provide a totally unanticipated cosmology, and possibly deliver us from death."

Video: Google Video


mmm AI. Sooo much has been written in SciFi on this them, I remember once reading a book or short story which atypically I can't remember the name of. The story revolved around a super computer which was able to modify it's self and became so powerful that it was still going strong when Man and the universe had evolved and moved 'On' (it obviously was not running Windows) and it eventually found it's self alone in the Universe… sometime later it uttered the words "Let there be light"

Video:YouTube
It would seem that the more knowledgeable prefer Firefox or anything else to M$'s IE, whilst those who are using Windows and are less adventurous take what they are given. Then there are those in the 'know' who seem to be either using Linux or Mac. Now I'm dyslectic so I avoided Linux because it was (not too sure now) using too much DOS like commands… but that leaves me confused because I'm sure I've seen IE on Macs.
At present I'm using Firefox & XP Pro which if I leave it alone, keep reinstalling my ghost backup about once a month, don't use FrontPage, don't try to install new drivers, or try to use Apple Quicktime, stay away from Media Center, don't introduce new hardware, if I hold my mouth just so, I might be able to hang on long enough for Mac to get the few bugs out of Leopard so I can move on.

Video: YouTube
Apple does from time to time slip up as well, but the mistakes just don't seem anywhere as terminal as the Windows Blue Screen of Death. Steve Jobs seems also more able to roll with the punches then Bill Gates.
Website: Apple Bloopers at DFW Techblog Blog

Video: YouTube
OK, by now you know I'm a victim of Microsoft… even the name's a giveaway, this guy actually put micro & soft together for a name, I mean is that a freudian slip or what. And it's not like his software is small, it's anything but, and it's getting bigger every time it's upgraded. XP will take up a few gigs, but Vista will use up about 9 gigs with it's whistles & bells, plus another 4 or 5 gigs for elbow room… and I don't even want to get on to the topic of drivers.
Here's an analogy of what MicroSoft has done. OK, you've got a little 2 bedroom cottage. Sometime later you decide the family's growing, hey I'll add a few rooms. To save money you decide to DIY, why not, you picked up that drawing board at a garage sale awhile back here's a chance to use it.
So initially you draw out a few rough sketches on the back of an envelope, you decide to pull down a few walls here, put up a few walls here and here. Next you pull out a few small windows and replace them with bigger windows, so you can enjoy the vista. There never enough bathrooms nor storage, so you put ensuits and walking wardrobes on each of the bedrooms which now number 5. A bigger kitchen and new bathroom, a formal dining room would be nice, a games room for the kids, an entertainment/home theater and a spar and gym would be a good idea too.
What you end up with is a dog's breakfast… it doesn't work, it leaks because the roof's a nightmare, you've got areas of dead space and useless hallways… after a couple of years the additions foundations settle and get out of sink with the original sections of the building and your thinking why oh why didn't I just pull the old place down and start from scratch like Steve Jobs… good question.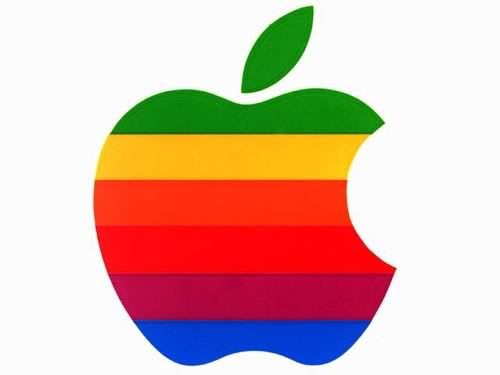 Logo: Apple


Logo: Lotus
In about '93 I visited a SMPTE (Society of Motion Picture and Television Engineers) exhibition and lusted after the earliest half a dozen or so digital non-linear editing suites, all of which were around $200,000. How things have changed, now you can buy a laptop that will almost do the same job for one or two thousand dollars.
I first learnt to use a computer in '94 using Windows 3.1 and my reason for learning was so I could edit my own footage and start my own production company. One of the first things I learnt to do of course was use the first crude word processors which for a relatively intelligent but dyslectic individual like myself was fantastic. However, initially I was taught on PC using Microsoft's Word but it's 'logic' I found illogical, so my tutor offered me Lotus AmiPro and immediately I found a software soul mate and within a few months I'd bought my first software… Lotus's SmartSuite, and I raved about it's user friendly format, it's compatibility between the differing components, it's customizability and the fact that no other organizer, even today, comes close to Lotus's award winning Organizer.
POST CONTINUES Read more
Windows is just everwhere!
Why do we do it to ourselves?
Well I'm as mad as hell and I'm not going to take it anymore; and I'm using XP!

Video: YouTube
PS The only concern I have is not understanding Apple's really DUMB battery neurosis with it's iPods & iPhones… I just don't get it Steve, why not make them so the owners can replace the batteries, why is this issue so diametrical to Apples no fuss philosophy?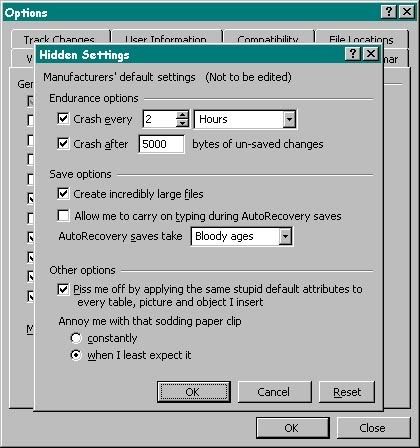 Picture: www.berro.com
We all know that these settings have got to be there somewhere. Why else would Windows just crash when it feels like it?.
Website: Windows Settings
Comments