This video is a few years old now, but still cracks me up, so I've decided to post it in case some of you haven't had a chance to see it yet.
Awesome, incredible, amazing, inspiring, Great Ad. This is a Canadian Ad, but the Message should be the same worldwide.
Stumble Series 2, Quebec City Time Lapse, Please See Dominic@Vimeo for more of his videos
I Stumbled on this Time Lapse Video of New York, which really does seem to portray the vibrancy that is New York, A quick trip through the day and out the other side. Please See Dominic@Vimeo for more of his videos


This little Kid is absolutely amazing, I'm sure Johnny Cash himself would be quite impressed with this rendition.
Greatest Artists Double Play is a new fixture for GetALookAtThis, We'll be featuring a regular post with a Double Shot of our favourite artists from time to time. David Bowie gets the honour of being first Cab off the rank with 2 of my favourite songs by this amazing performer.
DAVID BOWIE: MODERN LOVE
DAVID BOWIE: REBEL REBEL
See the lyrics to both songs, Click here –>> Read more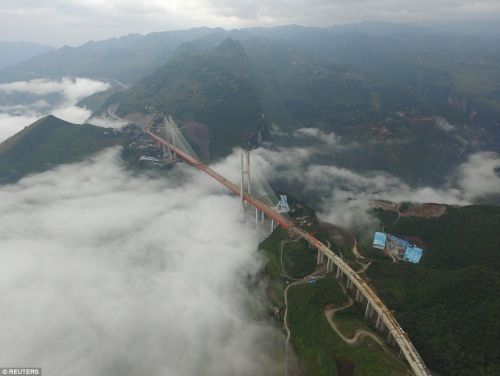 Photo: Reuters
China is home to many of The World's most amazing feats of structural engineering, not least of all are the collection of The World's highest bridges, 8 of the 10 Worlds Highest Bridges being in China.
The latest edition to China's impressive list is The Duge Beipanjiang Bridge, which now holds the record for The World's Highest Bridge. The Bridge crosses over the Nizhu River, it's deck being 565 Metres above the waters below. The bridge forms part of the G56 Hangzhou–Ruili Expressway between Qujing and Liupanshui The bridge has shortened the travel time between the city of Xuanwei in the Yunnan Province and Shuicheng county in the province of Guizhou from approx 5 hours to less than 2 hours.
Although completed in September 2016, The Duge Bridge was only recently inaugurated and open to the public on the 29th December 2016.
More Video & images of the World's Highest Bridge, click here ->> Read more
A common quote I remember being told many times in the past is, "Stress is Good, Distress is bad", This TED Talk takes that notion a step further, basically challenging you to engage in the process and recognise when you are stressed, that your body is just preparing itself for the situation you are about to experience and enabling you to be prepared and not in Distress. The talk also discusses that advantages of reaching out to others in times of Stress. Another great TED Talk and well worth the 14 Mins of watching
Forgive my Indulgence, Seinfeld as you may already be aware is one of my favourite all time television shows, Part 3 of the funniest moments is no exception ( IMHO ). Sit back and enjoy.
Please note as always that I give full credit to Sony and I would suggest if you like the series that you buy the Box Set of DVD's ( I regularly watch mine on DVD ) or subscribe to Stan TV as they have all episodes available for streaming.
For all of you who liked the first Seinfeld Funniest Moments, Here are some more
As always, please note that this material is included only to allow you to see a small snippet of the funniest show, Please do yourself a favour and BUY the DVD Box Set or subscribe to Stan.com.au to see the full series
Comments