I Stumbled on this Time Lapse Video of New York, which really does seem to portray the vibrancy that is New York, A quick trip through the day and out the other side. Please See Dominic@Vimeo for more of his videos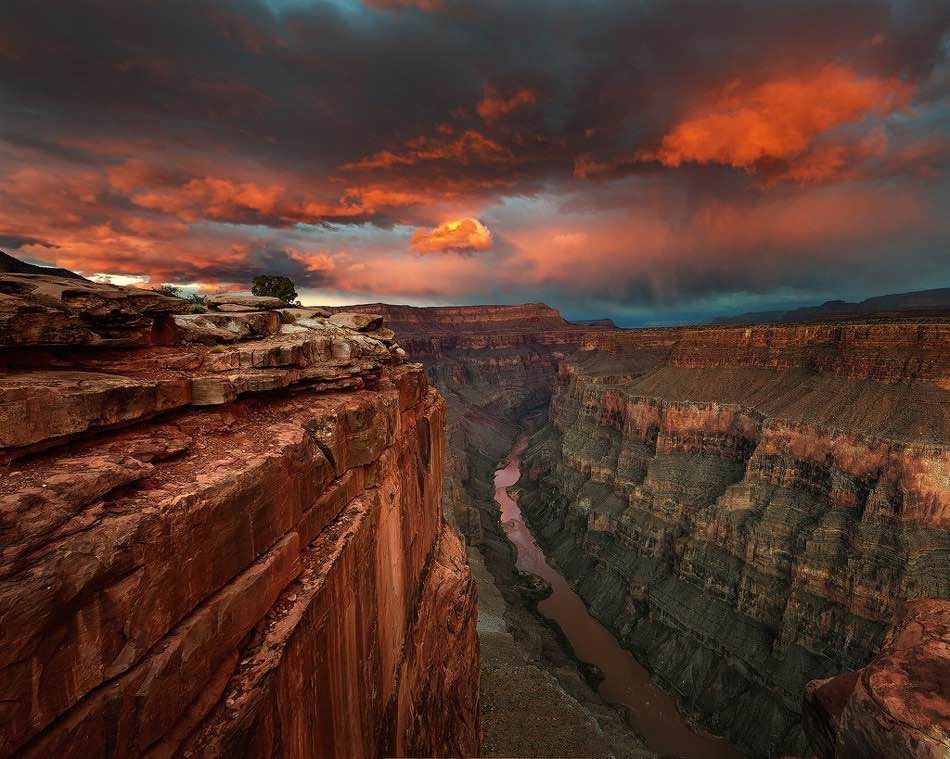 The Grand Canyon has a million or more visuals, Here is one of them.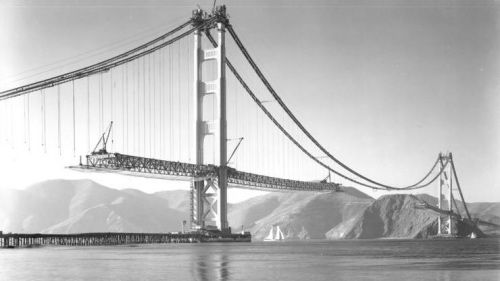 The Construction of the Golden Gate Bridge began on the 5th of January 1933, with the official opening on may 27th 1937, the festivities lasting for a whole week. Surprisingly the project completed ahead of schedule and $1.3 Million under budget, with the total cost being $35 Million. It still amazes me when I look at older projects like this and the level of engineering required to complete them.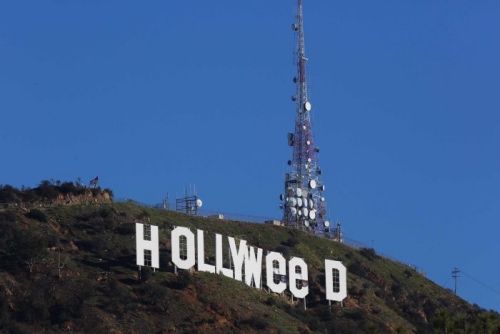 The famous Hollywood sign has been apparently vandalised to read HOLLYWEED, although I'd be more inclined to say someone just thought it needed to chill out a little. Given the Californian voters approved the recreational use of marijuana via Proposition 64 beginning 2018, this might just be a sign of things to come.

Video: JibJab
The more things change, the more things remain the same… whoever wins will have been funded by the same old crowd who supported the previous winners and losers, and in fact the future winners and losers.
The only solution to this problem is NO MORE POLITICAL DONATIONS & MORE REFERENDUMS. They have conditioned you to not to want to take part and to not be interested in politics.

Video: YouTube
It's sad that inventions such as this are more likely to get support, if they have a military application, rather than provide a service… say like helping the countless thousands of paraplegics.
Part 3 in the video series on the Mafia. This is a five minute summary of the full video. You can see all of the video by going to Veoh.com's register page. Once registered you will also need to download and install the Veoh TV/Video client at Veoh Download. Just follow the instructions and you will be ready to watch free movies and TV shows.
Part 3 of this series takes up in the late 1970s, the Sicilian mafia was smuggling millions of dollars worth of heroin into the US every year. Ultimately, a battle would rage on the streets of the US between a new breed of ruthless mafioso and a new kind of policeman, prepared to risk everything to infiltrate the mafia. With the help of FBI agents like Joe Pistone (aka Donnie Brasco) and Carmine Russo, the Mafia's drug enterprise would be exposed and eventually dismantled.

Video: YouTube
So many unanswered questions pertaining to ancient articles, which seem to contradict out understanding of our history. To assume that someone 'out there' was responsible, though it can not necessarily be ruled out, seems to not give credit to the mind nor ability of ancient 'man'.
Humans, unless you take the obviously ridiculous view that we and the planet earth, came into being apparently at 9am the 26th October 4004 BC. On the other hand, if you aren't deluded by dogma and blind faith, you may realize that we 'humans' have been in our present form for possibly more than a hundred thousand years.
Now considering the amazing progress 'man' has made in the last 10,000 years (just after the last Ice Age), it would not surprise me that 'man', in the say 100,000 years prior to the last Ice Age, may have been a lot more capable than we believe.
The fact that there is no real concrete evidence, does not necessarily mean, that civilizations prior to the last Ice Age did not exist. Hey, 3 to 4 kilometers of Northern hemisphere glaciation, during the last ice ages, would not leave much in the way of evidence in those areas… if you want to see what glaciation is capable of, check out the Norwegian fjords, which on occasion tower 1,500 meters plus (5,000′) above see level and to similar depths below the current sea level!
Note also that with such huge amounts of glacial ice, the sea level must have been also much lower. So whatever evidence that may have existed could have been under 122 meters (400′) of oceans for tens of thousands of years, since 'humans' tend to cluster around coastal and river basins.
Other possible catastrophes for early civilizations, may have been due to the impact of large asteroids and comets on our little pale blu dot, events which may have been responsible, not only for the extinction of the Dinosaurs, but may, in fact probably was, responsible for 'The Flood of Noah'.
There are so many events which may have destroyed evidence of previous civilizations; or in fact current civilizations, events such as catastrophic volcanic events or asteroidal impacts, which over the millennia have been numerous… hey it's not just man trying to wipe out man. OK so there's plenty of opportunities, to mask the origin of inexplicable ancient articles or artifacts.
Then there's the remarkable fact that the Chinese Admiral Zheng He, almost 1,000 years ago, who's enormous ships were up to 146 meters (600′) long and could carry as many as 2,000 people, traveled extensively around the world and mapped his journeys meticulously… a fact which was not know until quite recently.
So from the fact that the technology used by Admiral Zheng He, was not beyond humans say 10,000 or more years ago, and making the allowance that you don't need huge ships to navigate the oceans; a fact proved by the Vikings, it's quite possible that the all important and transportable maps, could have been created, passed on and copied for thousands of years… a fact that may explain, the ever more incredible ancient Antarctic maps, showing land masses covered by kilometers of ice and supposedly unknown till the 50's.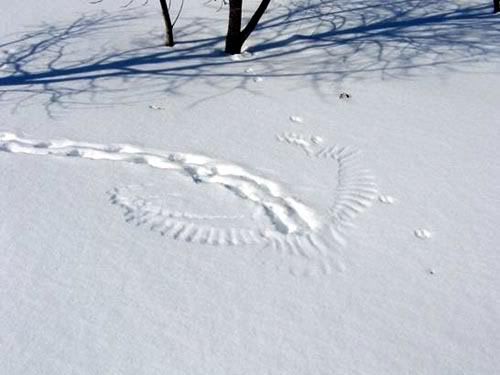 Photo: Susan Barstow
The disappearing Rabbit was swooped by an Owl.
Website: SummitPost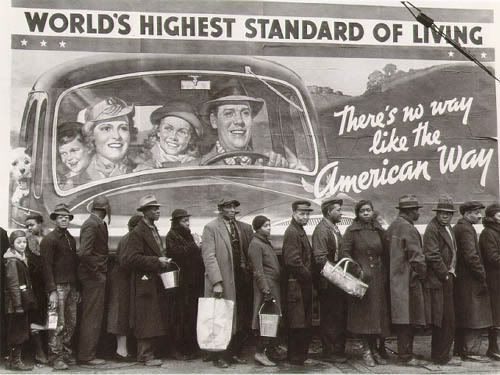 Photo: masters-of-photography.com
A little bit of irony and a bit of humour in this image, queuing up for welfare in the country with the highest standard of living. Sure many people in the States are very well off, but there are a lot of forgotten, mistreated and poor people.
Maybe if the next president spent more money on the American people and less on trying to get control of Iraq's oil, maybe then the many homeless and poor people could be given a bit of a hand up and trained so they can work and get themselves jobs and support themselves.
Sure George Bush says we have to save the Iraq people from dictators like Saddam, but what about the atrocities performed by Robert Mugabe, the former Zimbabwe leader. I didn't see George W trying to go in and free these people from the tyranny, maybe it's because Zimbabwe does not have any resources that the big business bastards in America needs.
So back to my main point, The American Government needs to spend more of it's money looking after it's own people, more training, more education, more skills, all of these and more if introduced on a big scale across the country would do wonders at eliminating much of the poverty that exist in the country with the so called best standard of living in the World.
Website: Living in America
Comments