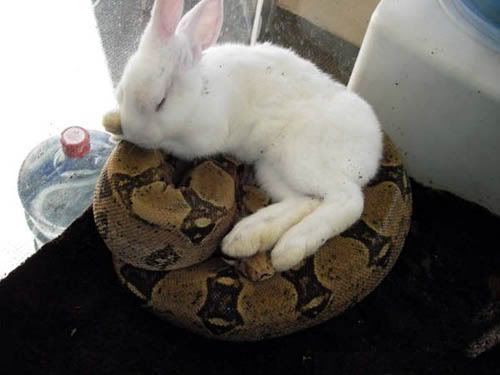 Photo: Stumble
Man I just don't get this, this photo is so wrong, first I see footage of a Rabbit attacking a snake!… a fairly large snake at that, now here's what appears to be a Rabbit curled up and actually sleeping on a Snake, that's on par with me sleeping on a crocodile, what gives?
See the amazing pictures as this snake attacks the little baby, fortunately the baby comes out unscathed.
POST CONTINUES see the photos Read more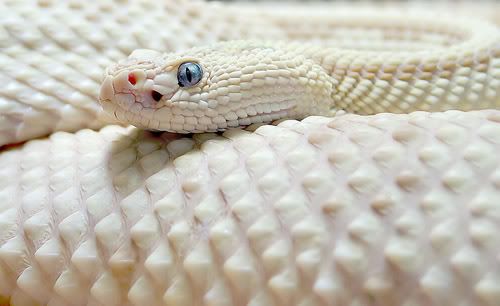 Photo: Kai Rösler
I Stumbled on this stunning photo of a Blue Eyed Albino Snake with little or no other reference other than what I assume is the name of the Photographer Kai Rösler.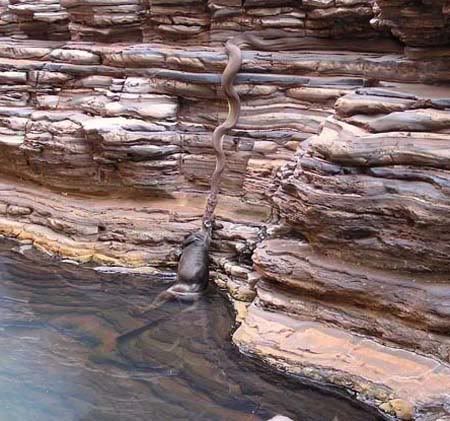 Photo: Unknown
We breed some pretty big snakes here in Australia. This King Brown Snake obviously objected to the kangaroo having a swim in it's waterhole, so it killed it and now it looks like it's going to eat it.
Website: Aussie Cynic

Video: YouTube
The Taipans – Oxyuranus microlepidotus are Ridgy-didge, are probably the world's most poisonous snake, if your in the areas they inhabit and you get bitten by one of them, you're in real trouble. They may not have killed many people, possibly because they avoid us or since we don't generally cohabit in this vast often hostile continent. If your 'outback' and one of these jabs their fangs in you, you'd better have a plan real soon… a plan that doesn't involve dialing 000 (911) on your mobile; which won't probably work out there anyway.
Website: Western Taipan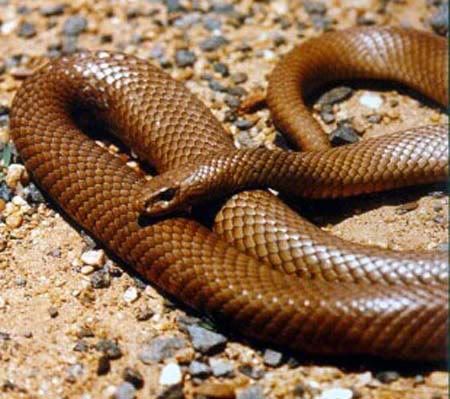 Photo: Common Brown – Pseudonaja textilis – Australian Snake Bites
The Common Brown… a snake with Attitude
You get only one guess why they call it that, and what's worse this one can be very aggressive; it will chase you if you annoy it… or if it's having a bad hair day or something, it's fast & big; can grow to over 2m and it's very poisonous. I wonder if the Aussie phrase 'Mad as a cut snake' relates to somehow cutting a 'brown'?
Website: The Australian Venom Research Unit

Photo: Bo Mikaelsson
can be a matter of perspective.
Website: PhotoGalaxy
Comments