Video: Ted Talks via YouTube
Hod Lipson demonstrates some of his strange robots which learn not only to move, but are self-aware and self-replicate.
# 458 BC: Aeschylus, greek playwright, was killed when an eagle dropped a live tortoise on him, mistaking his bald head for a stone. The tortoise survived.
# 270 BC: Philitas of Cos, poet and critic and reportedly wasted away and died of insomnia while brooding about the Liar paradox.
# 207 BC: Chrysippus, a Greek stoic philosopher, is believed to have died of laughter after watching his drunk donkey attempt to eat figs.
A little side note on Philosophers, I once heard someone say about Philosophers that he thought they would wear white lab coats (as do real scientists) if they though they could get away with it… well I thought it was funny.
# 336: Arius, the heretical priest who precipitated the Council of Nicea, passed wind and evacuated his internal organs.
# 1016: Edmund II of England died by having a sword thrust in his anus by the soldiers of King Canute while using a primitive latrine.
Side note. I wonder how long the assassin waited for to give Edmund a pain in the ass.
# 1410 Martin I of Aragon died from a lethal combination of indigestion and uncontrollable laughing.
Side note. Sounds suspiciously like an over dose cyanide with a side dish of magic mushrooms.
# 1753: Professor Georg Wilhelm Richmann, of Saint Petersburg, Russia, was struck and killed by a globe of ball lightning while observing a storm.
# 1899: Félix Faure, french president, died of a stroke while receiving oral sex in his office.
Well it would have saved the US and us all the BS about Bill & Monica.
# 1911: Jack Daniel, founder of the Tennessee whiskey distillery, died of blood poisoning six years after receiving a toe injury when he kicked his safe in anger at being unable to remember its combination.
# 1978: Janet Parker, a British medical photographer, died of smallpox in 1978, ten months after the disease was eradicated in the wild, when a researcher at the laboratory Parker worked at accidentally released some virus into the air of the building. She is believed to be the last smallpox fatality in history.
# 1979: Robert Williams, a worker at a Ford Motor Co. plant, was the first known man to be killed by a robot.
# 1981: A 25-year-old Dutch woman studying in Paris, Renée Hartevelt, was killed, raped, and eaten by a classmate, Issei Sagawa, when he invited her to dinner for a literary conversation. The killer was declared unfit to stand trial and extradited back to Japan, where he was released from custody within fifteen months.
# 1984: Jim Fixx, who wrote "The Complete Book of Running" and lectured about how running and a healthy diet would promote longevity, dropped dead from a heart attack while running. An autopsy revealed he had 3 massively blocked heart arteries.
# 1993: Garry Hoy, a Toronto lawyer, fell to his death after he threw himself through the glass wall on the 24th floor of the Toronto-Dominion Centre in order to prove the glass was "unbreakable."
# 2006: Steve Irwin, a television personality and naturalist known as The Crocodile Hunter, died when his heart was impaled by a short-tail stingray barb while filming a documentary entitled "Ocean's Deadliest" in Queensland's Great Barrier Reef.
Website: Wikipedia
Husqvarna, the world's largest lawnmower manufacturer, has launched the world's first automatic electric solar powered robotic lawnmower in the UK.
Hey is it worth £2000 or about $4,000 to never have to mow the lawns again?
Well some who can afford it or those who are affluent gadget freaks will say "Hell yes!" No doubt this will be the first of many, including vacuum cleaners which of course in time will come down in price.
The lawnmower which can be programmed to turn on at certain times or days will cut around 2000 square meters of grass in a user define area, by the use of a metal wire around the edge of the lawn. It also has sensors which allows it to avoid obstacles… like your cat or dog one would hope.
It cuts and spreads the mulch back onto the lawn, thereby reducing the need for chemicals. It will mow for about 40 minutes then return to the charging station to recharge and the included solar panels has apparently increased it cutting time to approximately 50%… and I imagine it's recharging time as well in places like sunny Australia.
Apparently about 90% of it's components are recycled… and that's cool. And I imagine it will also be more carbon friendly since it has a capacity to use green power sources, whereas ye old petrol guzzling, smoke belching, wear your self out trying to start it and drive your neighbors mad with the noise dinosaur will eventually go the same way as the dinosaurs, and that's a good thing, as is the fact that they also left off the Volvo bumper bar. 🙂

Photo: Engadget
This is really spooky, I just finished posting my 'Robots inspired by animals' when I stumbled on this story with in 5 minutes!
"General Dynamics will build robotic vehicles to conduct surveillance and other security tasks for the Army under a five-year contract that could be worth as much as $40 million.
The semi-autonomous security vehicles are designed to perform a number of surveillance activities without the aid of a human driver, including checking for intruders and monitoring stored ordnance.
The contract calls for General Dynamics Robotic Systems of Westminster, Md., to produce 24 vehicles, spare parts and training and technical services – all part of the Army's Robotic Mobile Detection and Assessment and Response System.
MDARS diesel-driven vehicles have a payload capacity of 500 pounds. They are equipped with sensors and a real-time obstacle avoidance system, and can operate at speeds up to 20 miles per hour for up to 16 hours without refueling."
Website: Washington Technology

Video: Asterpix
Making Robots, a Geeks dream, but what about the question of one small step for man… leading to a giant leap for a Cyberdyne System's Terminator cyborg assassin, which in real life's already on the way, in the form of War Robots being developed by various countries in their quest for more efficient killers.
It's a possibly ironic 'Real Life' copying a Hollywood nightmare situation… remember when Sir Mark Oliphant; the Australian designer and builder of 'the bomb', told 'the powers that be' that nobody was sure if the first atomic bomb would lead to a chain reaction that would destroy the whole world. The politicians, no doubt led on by the military, made the decision to set it off anyway.
Website: Asterpix
Amazing footage, how was it built and who designed it… if anybody knows please let us know.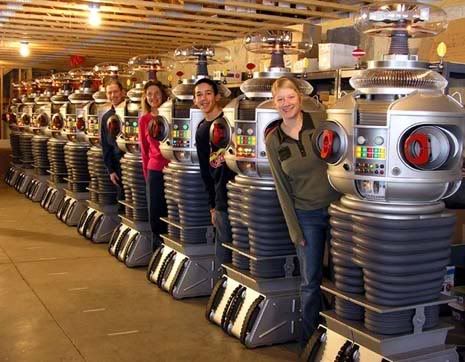 Photo: www.lostinspacerobot.com
To all you Lost in Space Fans, this is your chance to own your own replica Robot from the TV series.
Click the link below to get your own robot.
Website: www.lostinspacerobot.com

Video: YouTube
Comments