Found this image just now on reddit, Not a racist thought in their minds, just the innocence of youth, Kids being kids, Boys Enjoying new found toys. Love the image this portrays and especially given the time this was taken.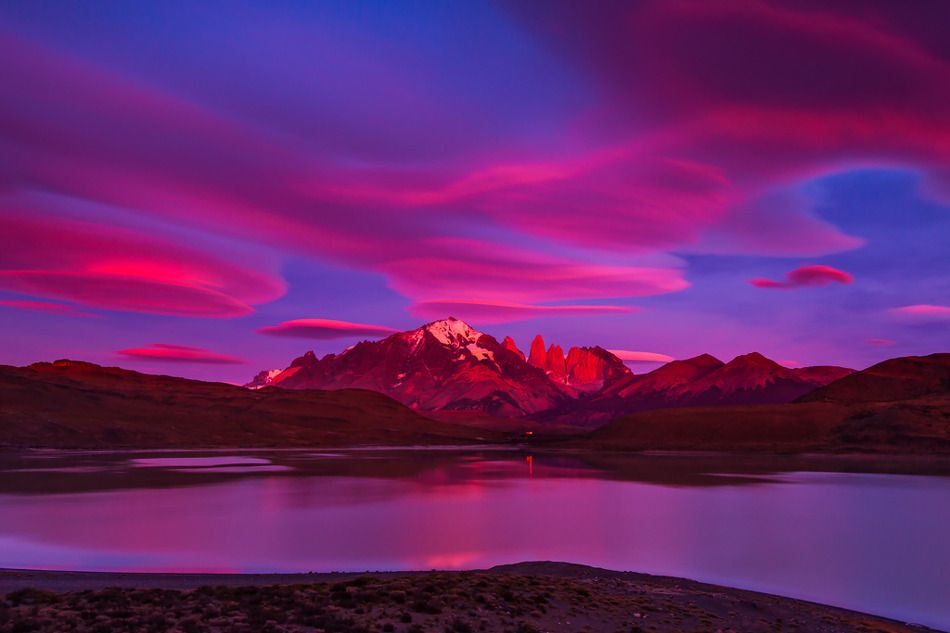 I stumbled across another Torres del Paine photo tonight, So I thought i'd post it for all to see
Please see the link to the Photographer Hongxun-Gao's image that was posted on Earthshots.org and his description for the photo below.
"I got up earlier the last day in Torres del Paine before hitting the road to Patagonia, Argentina. It was pretty clouded and only a small gap of clear sky on the sunrise side. I knew it would be another gorgeous sunrise in this wonderful national park. Plenty of lenticular cloud looks like UFO team landing Torres del Paine. It was my first time seeing this special cloud. I was very excited to watch it burn and transform in the sky. Farewell to my dreamland!"
Equipment: Canon 5D Mark II wit EF 16-35mm f/2.8L II USM Lensh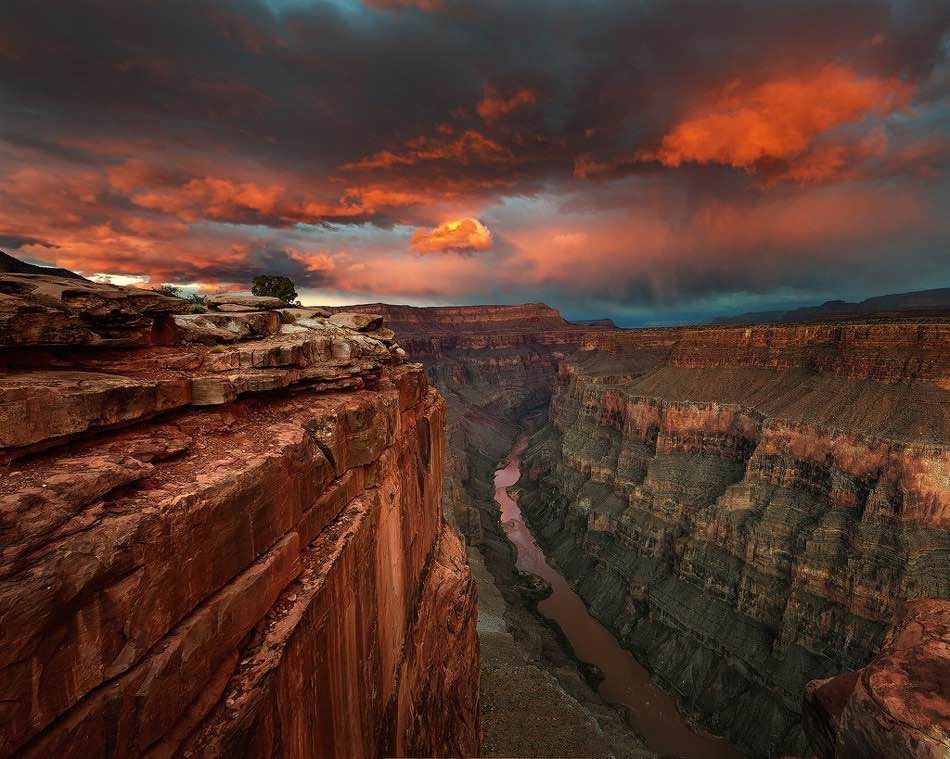 The Grand Canyon has a million or more visuals, Here is one of them.
Navagio Beach, located on the coast of Zakynthos, in the Ionian Islands of Greece is one of the places which you see and instantly get the feeling that you'd like to go there, at least I did anyway!. Take a look and decide for yourself.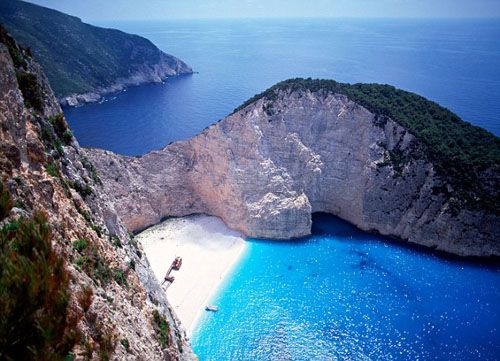 Due to it's pure white sandy beach and crystal clear blue waters it has become a favourite destination for tourists, who's only access is via boat.
The beach contains the wreck of a ship known as the Panagiotis, which was purportedly involved in smuggling of cigarettes when it was washed up on the beach in 1983, after which the area was nicknamed Smugglers Cove.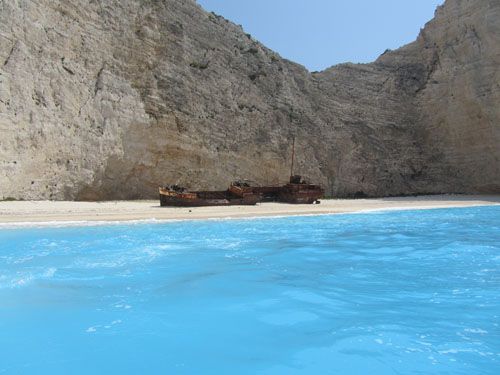 Oh, did I say before that the only access was via boat, Umm, not exactly true, if you happen to be into extreme sports, you could drop in via a quick base jump from the "600 feet plus" high limestone cliff.
Amazing video of Base Jumpers doing their thing at Navagio Beach
For many more pictures of this awesome beach click here –>> Read more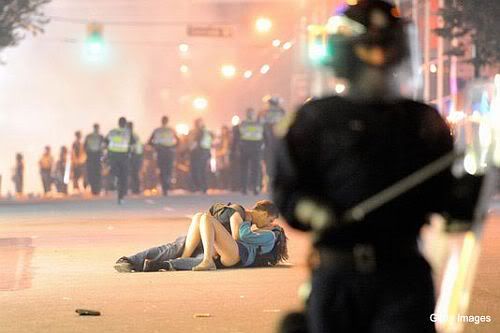 Photo: Getty Images
An Aussie Bloke (Scott Jones) and his Canadian girlfriend (Alex Thomas) show the world how to "Make Love not War". Apparently Alex had been knocked down during the riots which took place after the Vancouver Canucks hockey team lost Game 7 of the Stanley Cup final to the Boston Bruins. Scott was consoling her when this photo was taken by freelance photographer Richard Lam.
Maybe the rioters could take a look at Scott and Alex's example and think for a moment that it was only a game of Hockey and not worth starting a riot over.
Website: Yahoo Sports

Photo: Lou Lineker via abc.net.au
A Sydney snake has got itself a free ride. The Green Tree Snake appeared from a vent near the windscreen while Lou Lineker and her family were travelling towards the Sydney Harbour Bridge. The family had nowhere to pull over at the time and the snake stayed in view for about 5 minutes before it disappeared back where it came from. When the family returned home and looked for the snake it was gone.
Website: ABC: Free riding snake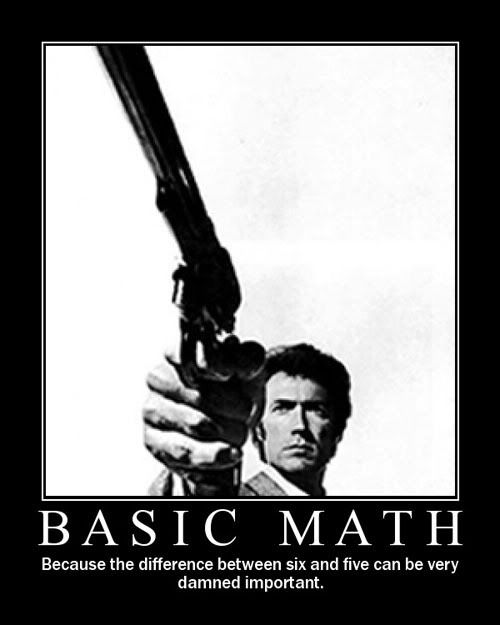 Photo: DustDevil75 on Photobucket
You never realised just how important maths could be until you were confronted with this dilemma
Website: DustDevil75 on Photobucket

Photo: dribbleglass.com
What an excellent idea I'll call you straight away so that I can get my phone working, Oh wait on I can't.
Website: Phone out of order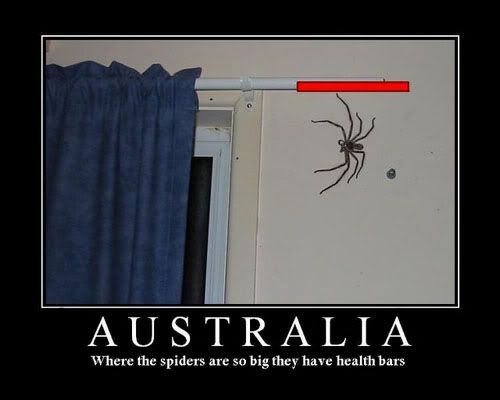 Photo: Healing Spirit
Spiders do get big here in Australia, fortunately this species is fairly harmless. Wouldn't like it to drop off the wall onto your face while you were sleeping though.
Thanks to healing spirit for this photo, see more of healing spirit's images at the link below.
Website: Healing Spirit on Photobucket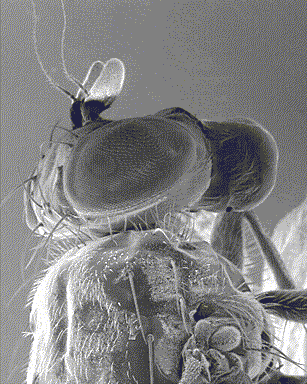 Photo: The Flys Eye
Close up view of a Flys Eye, very interesting and thanks to University of Hawaii at Manoa via photosfan.com for the image.
Website: University of Hawaii at Manoa via PhotosFan.com
Comments