This video is a few years old now, but still cracks me up, so I've decided to post it in case some of you haven't had a chance to see it yet.
Wrong number conversations can be hilarious sometimes, Most people would be happy just to send a polite "You must have the wrong number" But some of us like a little joke from time to time, the result being something like what we recently Stumbled Upon from BoardPanda.com, they made us laugh.

To see more click here –> Read more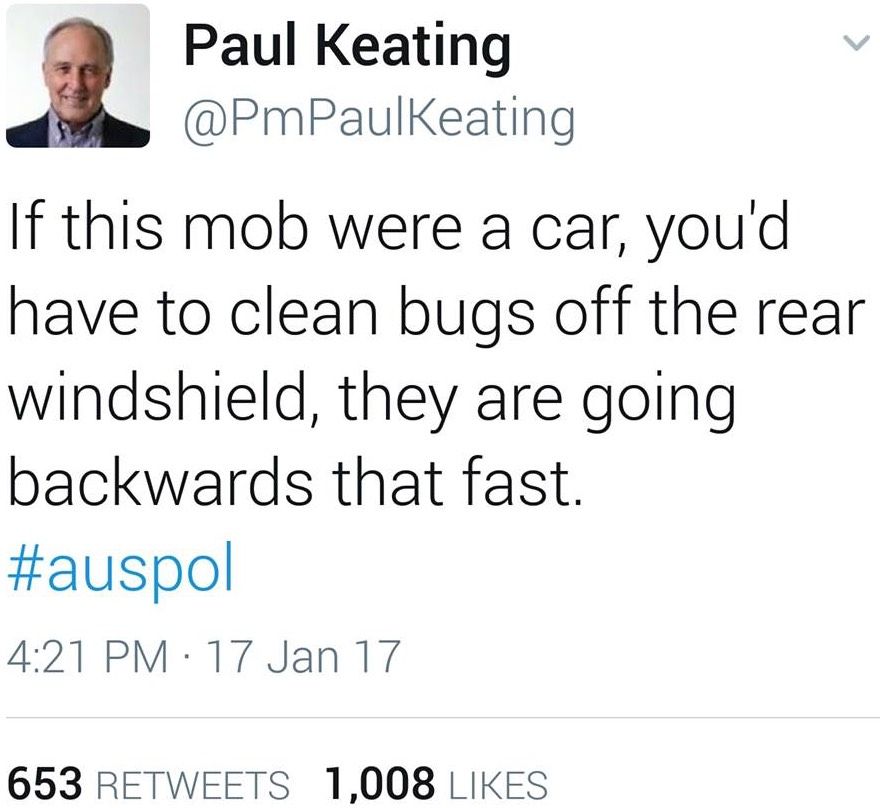 For our readers who live outside of Australia and may not be familiar with Paul Keating, He is an Ex Labour Party Leader who served firstly as Treasurer under Bob Hawke's Prime Ministership for 8 Years, and then as Prime Minister of our country for a further 5 Years from 1991 to 1996. In my opinion he is the Best Leader our Country has probably ever seen. There is definitely no doubt that he was and still is the king of the one line quotes that would knock the absolute stuffing out of the then Liberal Opposition Party. Here he is in the picture shown tweeting another insult to the Liberal Party, right on the money as usual.


Thanks goes to Dave Webb for making this Sudo Seinfeld episode from deleted scenes and some stand up scenes as well.
For all of you who liked the first Seinfeld Funniest Moments, Here are some more
As always, please note that this material is included only to allow you to see a small snippet of the funniest show, Please do yourself a favour and BUY the DVD Box Set or subscribe to Stan.com.au to see the full series
PLEASE NOTE, I am merely displaying the video below to illustrate what a great Television Show Seinfeld was and how much I enjoyed watching it. If you like what you see, please do yourself a favour and go out and buy the DVD Box set or Subscribe to Stan.com.au to see all of the Seinfeld Episode in the comfort of your own home
Due to popular demand, I have reposted an earlier video of Seinfelds Funniest Moments Part 1, more to come
I don't often post jokes, but these few are sort of funny, I think anyway.
True love lasts forever
It's the World Cup Final, and a man makes his way to his seat right next to the pitch. He sits down, noticing that the seat next to him is empty. He leans over and asks his neighbour if someone will be sitting there. 'No,' says the neighbour. 'The seat is empty.' 'This is incredible,' said the man. 'Who in their right mind would have a seat like this for the Final and not use it?' The neighbour says, 'Well actually the seat belongs to me. I was supposed to come with my wife, but she passed away. This is the first World Cup Final we haven't been to together since we got married.' 'Oh, I'm so sorry to hear that. That's terrible….But couldn't you find someone else, a friend, relative or even a neighbour to take her seat?' The man shakes his head. 'No,' he says. 'They're all at the funeral.'
Snail with an attitude
A guy is sitting at home when he hears a knock at the door. He opens the door and sees a snail on the porch. He picks up the snail and throws it as far as he can. Three years later there's a knock on the door. He opens it and sees the same snail. The snail says: 'What the hell was that all about?'
For more jokes, click here –> Read more
This is my funniest video of the week, LMAO as I almost fell off the chair


These commercials are very funny, certainly worth the 10 minutes to watch them.
Check out this leap, Tigers are amazing creatures with great athleticism.
Comments