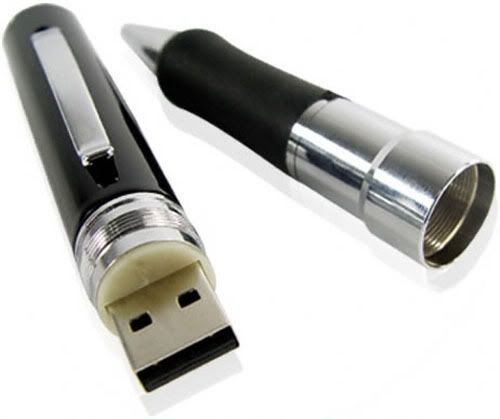 Photo: geekalerts.com
Need to do some surveillance work? This "secret agent pen" may be just what you need! The pen has a built in camcorder and can store the video footage with audio on it's 1GB of flash memory.
The pen can easily sit in your shirt pocket and is perfect for recording confessions, interviews and secret rendezvous. Just what every aspiring James Bond needs for their repertoire.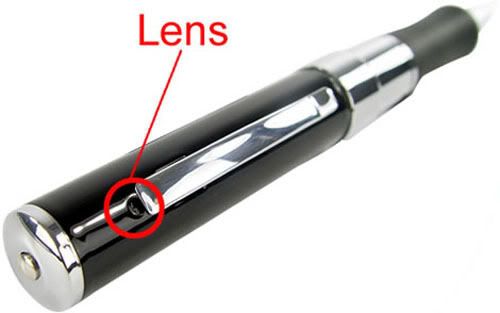 Photo: geekalerts.com
POST CONTINUES Read more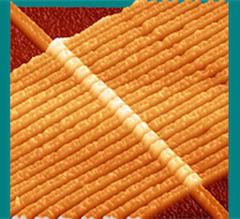 In an exciting breakthrough, scientists from HP Labs have built working prototypes of a new electronic circuit component called a 'Memristor'. The device may lead to instant-on PC's and analog computers that act in the same way a human brain does.
Until recently the Memristor had only been described using mathematical equations written back in 1971 by engineering student Leon Chua. Although Chua knew this circuit element should exist, he was unable to come up with a physical manifestation of the component.
"Thirty-seven years later, a group of scientists from HP Labs has finally built real working memristors, thus adding a fourth basic circuit element to electrical circuit theory, one that will join the three better-known ones: the capacitor, resistor and the inductor."
The researchers believe this discovery may be integral in the production of Instant-on PC's and more energy efficient computers and even computers that act in the same way as the human brain.
See the full story at the website link below.
Website: Memristor
Komputer Tutor Infomercial Part 1

Video: YouTube
I remember these Komputer Tutor infomercials airing on TV in Australia, I think it was during 1991 that I first saw them. They seemed like they would be just what the average computer user would need to get themselves going in the world of computers.
POST CONTINUES see more of the Komputer Tutor Read more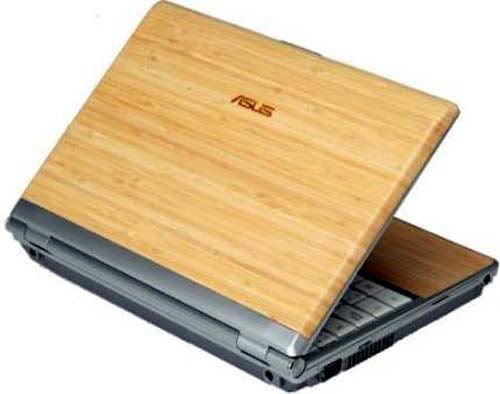 Photo: LAPTOPS ARENA
This is a look at what hopefully will be ASUS's new ecobook. There no indication of specs or price yet but, being a fan of ASUS's computers, I'm sure it's performance will be as attractive as it's looks… makes me almost want to stay with PC, not.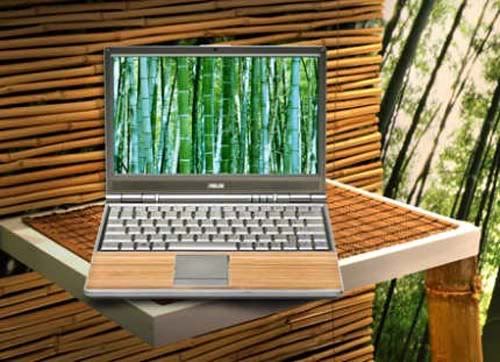 Photo: LAPTOPS ARENA
Website: LAPTOPS ARENA

Photo: John Walker's HomePlanet
John Walker's HomePlanet is a Microsoft Windows application which calculates the position of the Earth, Sun, Moon, planets, asteroids, comets, and Earth satellites with high accuracy.
A friend who's a professional Astronomer recommended it to me and gave it quite a rap and now I'm giving it a rap, it's great, easy to use and has a brilliant help file with a huge amount of great reference material.
I'm about to abandon Windows, I've finally had enough so I'm moving to the light side, I'm getting a Mac and my only regret will be losing my much loved HomePlanet (thanks to my friend Sean, and John Walker) and perhaps my Lotus SmartSuite, but particularly my Lotus Organizer.
John Walker is a computer programmer and a co-founder of the computer-aided design software company Autodesk, and a co-author of early versions of AutoCAD… which explains the excellent nature of HomePlanet.
The above photo is in fact a feature known as 'Sky map'. The sky map shows the sky as it appears at the current time (real or simulated) above the location you've selected as the observing site. Stars visible to the naked eye and symbols representing the Sun, Moon (with correct phase), and planets currently above the horizon are shown in their correct positions in the sky. If you've selected an asteroid or comet to track from the Object catalogue and it's currently visible, the symbol representing it will also appear in the sky map. If you're tracking a satellite and it's visible from your site, its icon will appear at the correct position in the sky.
John Walker's real time Screen saver looks very similar to Sky Map, it, like it's parent software, is brilliant and free, you don't even have to register them… how great is that.
Website: John Walker's HomePlanet
"In the mid 70s, an aspiring theoretical physicist made what he and many others feel is the most important discovery in the world. This very … all » significant film is about the resulting invention, one that can author all subsequent ideas, provide a totally unanticipated cosmology, and possibly deliver us from death."

Video: Google Video


mmm AI. Sooo much has been written in SciFi on this them, I remember once reading a book or short story which atypically I can't remember the name of. The story revolved around a super computer which was able to modify it's self and became so powerful that it was still going strong when Man and the universe had evolved and moved 'On' (it obviously was not running Windows) and it eventually found it's self alone in the Universe… sometime later it uttered the words "Let there be light"

Video: Google Video


Cluster of Apple G5 computers at Virgina Tech which is the 3rd most powerful super computer cluster in the world and the second-least expensive system in the top 10.
Here are some of the names you would know as the most well known computer companies in the world, but how did they get their names? See below for the answers.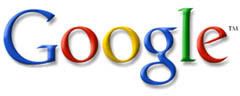 Image: Google
Google
"The name started as a joke boasting about the amount of information the search-engine would be able to search. It was originally named 'Googol', a word for the number represented by 1 followed by 100 zeros.After founders – Stanford graduate students Sergey Brin and Larry Page presented their project to an angel investor, they received a cheque made out to 'Google' "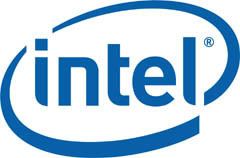 Image: Intel
Intel
"Bob Noyce and Gordon Moore wanted to name their new company 'Moore Noyce' but that was already trademarked by a hotel chain so they had to settle for an acronym of INTegrated ELectronics."




Image: Apple
Apple Computers
"It was the favourite fruit of founder Steve Jobs. He was three months late in filing a name for the business, and he threatened to call his company Apple Computers if the other colleagues didn't suggest a better name by 5 O'clock."



POST CONTINUES Read more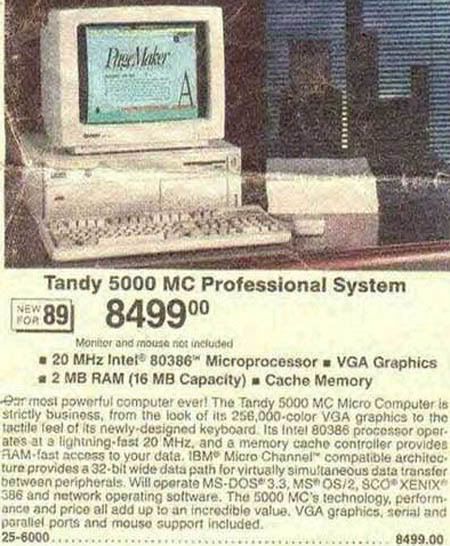 Photo: desiboyzmasala
Feel the power of the Tandy 5000 MC Professional.
20MHz, 386 with 2MB of RAM.
All of this power at a mere $8499. Monitor and mouse not included……
WHAT $8499 and you don't even get a monitor or a mouse.
Website: Tandy 5000 MC
Comments