Video: Daily Motion
Susan Boyle has done it again, with a wonderful performance of Memory from the musical Cats. Susan has completely stunned the world with her amazing voice and is surely the favourite to take out the final of Britain's Got Talent.
Video: Google Video
HaHaHaHaHa… Good to see, I've never considered hunting a sport, think about it, you use a high powered rifle with a scope to kill some poor creature and call it 'sport'?… if you did the same thing to another human, it would be murder.
OK, I know that there are circumstances where you have to cull certain animals for various reasons. In Australia for instance, feral pigs, cats, dogs, dear, buffalo, goats and camels can cause enormous damage to our delicate Aussie bush and our farms, and I'm all for shooting programs, either to bring down their numbers or even to wipe them out, to protect that delicate bush.
We also have situations where the Kangaroos end up in plague proportions; largely because we have changed the balance, and we have to kull them. Now don't get me wrong here, I have no problem with this culling, in fact I'm some what pissed off when a bunch of bleeding harts try to stop these culls… sort of a save Skippy thing.
I'm also pissed off when these same people, protest at Kangaroos being 'farmed'… because "You can't eat our national symbol." Well yes you can, the Aboriginals have for some 60,000 years or more. It's also one of the healthiest meats having very low cholesterol and having the advantage that they do less harm to the bush than Beef… we should be farming them.
But killing for pleasure, no I'm sorry but I'm not happy with that. By the way, did you know that another reason given for the Kangaroo and the Emu being on our crest is because they can't take a step backwards… an Australian trait all but gone in the last 30 years. Hears another fact. In every conflict that Aussie military personnel were involved in, it was our boys who were the first to win battles amongst the allies.

Video: Funny or Die
You got to laugh… still though I'm racking my brain to figure how to screw with these cats a bit more, damed if I can.

Video: Break
I want one of those, anybody/thing who hassles cats cant be all bad… persistent isn't it.
For those who been with us a while I must confess that I'm prone to the occasional act, of what I guess could be call Anarchy. Well it all started when I was dragged out of the Kenyan Bush and at the not so tender age of about 7 or 8; we all know what absolute terrors come from that age. Anyway, I was taken to church by the school I'd just started in England.
Actually, now that I think about it there had been an earlier incident. A teacher had dragged me out of the class by my ear for saying bloody, and she'd threatened to wash my mouth out with soap. I had no idea what I'd done, I didn't know what was the problem, I had after all only been in this, my first British school, for a couple of hours… it made no sense. Where I grew up bloody wasn't a big deal, but then I didn't realize I was a heathen. What I did know was I'd never been woman handled like that before and I did not like it one little bit, and I realized this race of people and me weren't going to get on at all.
So getting back to the church thing. As far as I was concerned it was bullshit, so I told my mum, a Norwegian heathen; my father was a British heathen who went back to Africa after flying Spitfires there during WWII. Anyway, I did not want to go to church again, so I got my mum to write me a note. She also wrote me a note because I did not want to wear a school tie… nor a uniform for that matter, but I consented to wear similar colors; though later much nicer styling, and still later when they tried to give me spelling detention; I'm dyslectic though at the time we did not know that, I got my mum to write a note saying not to put me on detention.
OK so you have the picture I guess, I'm a hard ass, I'm in your face if you screw with me or mine… but I love my mum and I still ring her just about every week, and I like animals, even cats, though I will occasionally torment them as I did to my mother's bossy horse, who tried to put me in her pecking order. So I drove her nuts to the point she would go to the furtherest end of the paddock to try, unsuccessfully, to stop me from patting her. 🙂
About now your wondering what is Beam on about? Well I'm about to use another dirty word…
POST CONTINUES Read more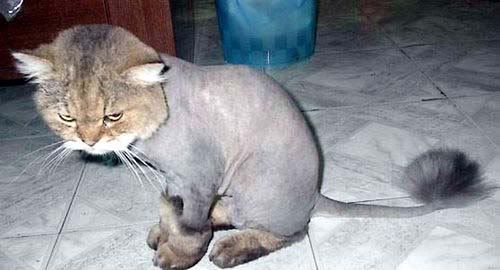 Photo: Stumble
HaHaHaHaHa… believe it or not, as long as they are not killing our Aussie birds I do like cats… it's just that they are sooo 'egocentric' that I do get just a little pleasure from there 'catyness' getting a little ruffled.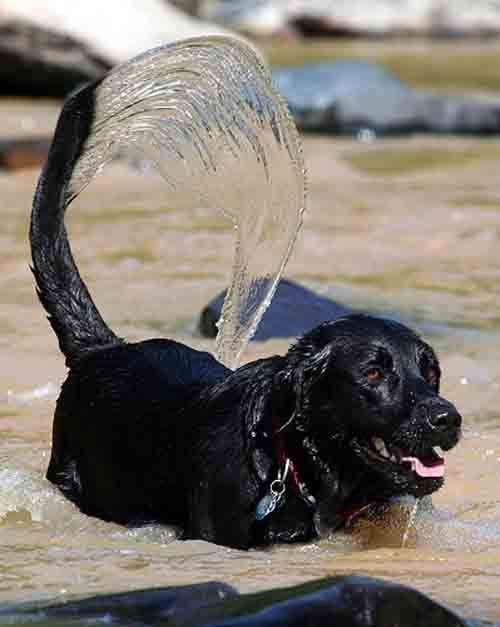 Photo: Stumble
What a great shot.
Being human means there is always someone who will love to see you. Your dog is one… or if you don't have a dog, perhaps someone else's.
If your really desperate for companionship, almost any cat will treat you as a friend… as long as you feed it and pat it.
Then there's the occasional bird; though I can't see why if you lock them up in cages.
Whales & Dolphins too seem to like people, for reasons that are hard to explain, since we kill them and are poisoning their habitat.
There's about 500 trillion of the planets flies & mosquitoes who are always happy to see you.
A few carnivores such as the big cats, Polar & Grizzly bears would be happy to see you should you venture into their habitat.
Last but not the least, if your lucky enough to come to Australia, but stupid enough to go swimming in certain areas of the Northern Territory or Northern Queensland, our 'Salties' (saltwater crocodiles) will be very pleased to see you as well.
We all love it when animals do amazing things… and that was a classic example. Most people love dogs… unlike Cats who rarely do tricks. Now I'm going to tell you a story of another Dog trick I once saw.
I met a guy about 12 years ago, from memory, he was an Engineer working on the New Endeavor, the Australian tall ship, which he'd apparently worked on for some 10 or more years. His dog was a Fox Terrier, and he been living on board with is master, apparently since he was a pup.
Anyway, I'd gotten up at about 10am New Years morning… after crashing at about 7am. There were about 700 of us in tents and campers camped on an Airstrip… and it had been a Wild night. Now since I'm not a drinker, I was up earlier than most, because I would be working, and as usual, it was going to be a hard day, largely because most of the other camerapersons were hung over for the first half of the day.
OK, so I get up, step out of 'the Taj mahal', as my new dome tent had been christened and the first thing I see is this Fox Terrier madly racing around in circles chasing it's tail. It eventually caught it's stub of a tail, then walks crab like on tippy toes up to it's master's out stretched hand and places it's stub of a tail in his out stretched hand, I kid you not!
After I'd got over the initial shock, I realize that the others standing around were just as stunned… it was one of the strangest things I'd ever seen an animal do. So I asked the owner. "Can you make him do that again?" The owner said to his dog as he outstretched his hand. "Give me your tail." And the Foxie repeated his stunt to the delight of all. I looked at the owner and said. "Bit of free time on board eh?"
Unfortunately, my body was up, but my brain was waiting till I'd had a shower to catch up, so I can't show you any footage. Sad to say, I was too busy during the rest of the day to chase up the pair, to video one of the wackiest things I have ever seen a dog do, and unfortunately they left later that same day.
But the question still burns in my head. How on earth do you make dogs do such abstract stunts?
My dog wouldn't even fetch or even heal, and when my mother took him to obedience school; because I was happy with the way he was, she was told after only 2 lessons not to bring him back… because he was too much of a problem; much to my mothers embarrassment. I was so proud of him.
You know he had his skills, for instance he was great at keeping god botherers from knocking on our door and he (with a bit of encouragement) made the Feds real nervous and a little less assertive regarding why I'd declined an all expenses paid trip to Vietnam… I'm not so sure they'd have believed I was my younger brother if Tiny hadn't been there you know.

Video: YouTube
HaHaHaHa. At last a use for them!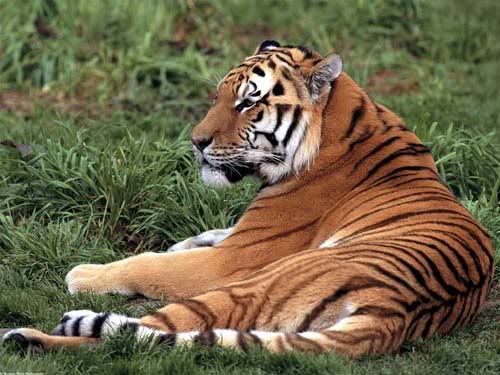 Photo: Stumble

Photo: Stumble
There are no land based animals I more admire than the Tigers, they are, in my opinion, the ultimate creature to tread the Earth at present. Sure Elephants are bigger and perhaps more dangerous as indeed are several other animals, it's just that big cats, but more particularly the Tiger, have got style, movement and a right to be arrogant in abundance… unlike their domestic 'I want to be fed now' pussies.
Mind you I have met a couple of breeds of pussies that I liked, one was a Burmese cat and the other was an Abyssinian cat. Both of these breeds of cats seemed to me to be more dog like than cat like, that is, they didn't come across as masters rather than friends or pets.
POST CONTINUES Read more
Comments