John Farnham sings with Jimmy Barnes at the Under The Southern Cross Concert in 1988. 2 Absolute legends of the Australian Music Industry doing what they do best.
Click here to see another classic song from the Under The Southern Cross Concert in 1988 –>> Read more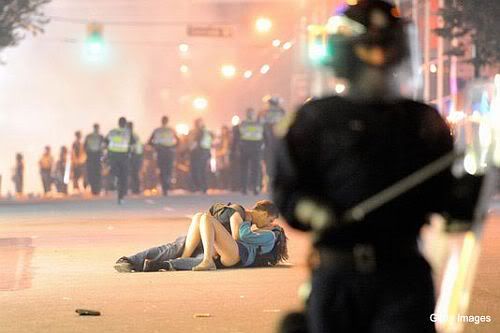 Photo: Getty Images
An Aussie Bloke (Scott Jones) and his Canadian girlfriend (Alex Thomas) show the world how to "Make Love not War". Apparently Alex had been knocked down during the riots which took place after the Vancouver Canucks hockey team lost Game 7 of the Stanley Cup final to the Boston Bruins. Scott was consoling her when this photo was taken by freelance photographer Richard Lam.
Maybe the rioters could take a look at Scott and Alex's example and think for a moment that it was only a game of Hockey and not worth starting a riot over.
Website: Yahoo Sports

Video: Wes Carr via YouTube
Feels Like Woah by Wes Carr is one of my favourite songs, I really love the fresh rock sound, a little like a softer version of Cold Chisel or Bruce Springsteen. Wes may have come from Australian Idol, but he is definintely not a manufactured musician, he has real talent.

Video: YouTube
Marry Me is last years Tropfest Australia winning film. The film is inspired by a true story in which the Director Michelle at the age of 5 used to chase Jason Mahooney around their school yard in a pretend wedding dress (her mother's nightie).
Website: Tropfest on YouTube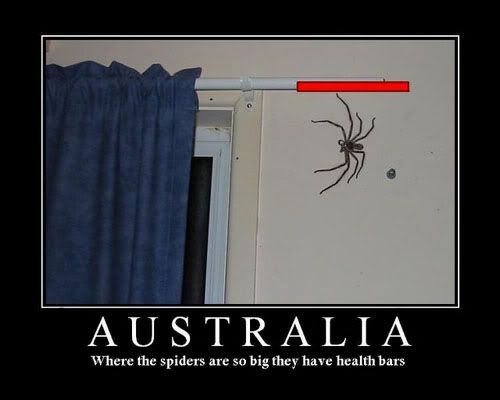 Photo: Healing Spirit
Spiders do get big here in Australia, fortunately this species is fairly harmless. Wouldn't like it to drop off the wall onto your face while you were sleeping though.
Thanks to healing spirit for this photo, see more of healing spirit's images at the link below.
Website: Healing Spirit on Photobucket
Video: Google Video
HaHaHaHaHa… Good to see, I've never considered hunting a sport, think about it, you use a high powered rifle with a scope to kill some poor creature and call it 'sport'?… if you did the same thing to another human, it would be murder.
OK, I know that there are circumstances where you have to cull certain animals for various reasons. In Australia for instance, feral pigs, cats, dogs, dear, buffalo, goats and camels can cause enormous damage to our delicate Aussie bush and our farms, and I'm all for shooting programs, either to bring down their numbers or even to wipe them out, to protect that delicate bush.
We also have situations where the Kangaroos end up in plague proportions; largely because we have changed the balance, and we have to kull them. Now don't get me wrong here, I have no problem with this culling, in fact I'm some what pissed off when a bunch of bleeding harts try to stop these culls… sort of a save Skippy thing.
I'm also pissed off when these same people, protest at Kangaroos being 'farmed'… because "You can't eat our national symbol." Well yes you can, the Aboriginals have for some 60,000 years or more. It's also one of the healthiest meats having very low cholesterol and having the advantage that they do less harm to the bush than Beef… we should be farming them.
But killing for pleasure, no I'm sorry but I'm not happy with that. By the way, did you know that another reason given for the Kangaroo and the Emu being on our crest is because they can't take a step backwards… an Australian trait all but gone in the last 30 years. Hears another fact. In every conflict that Aussie military personnel were involved in, it was our boys who were the first to win battles amongst the allies.

Video: Metacafe
Being agnostic I'm I guess neutral towards most religions, that is, I think they are all nuts, it's the zealots I can't stand. But the hatred brought about on both sides of the war of zealots is nothing more than a divide and conquer technique; similar to the Communist verses Capitalist bullshit, used by either mentally unstable types or people with agendas, which really have nothing to do with religion.
People are pretty much the same all over the world, the Russians didn't eat their babies, the refugees didn't 'throw their children overboard' and any body with an ounce of sense should have known this… the trouble is commonsense isn't.
Lately I have been watching a show on the Australian SBS ('ethnic' TV), it's a Panel show, you know, a few gals and guys discussing issues with the various guests… the twist is it's an Aussie Islamic show called 'Salam Cafe' and it's a scream, they even like 'regular' Aussies, spend a bit of time taking the piss out of themselves, some of their humor if told by a 'Christian' might be taken as raciest, so they are cool, check out the link above.
No need to panic folks, this ain't going to be a flag waving exercise… well maybe I'll do a little bit.
Initially I Stumbled upon the French National Anthem La Marseillaise. True to the spirit of the French, I find it a moving and beautiful national anthem. For me the French personify style, class, fine food and I guess Amor… they are lovers not fighters.
In general they are good people, they stayed out of Iraq and they are very socially minded. However, recently and inexplicably, they voted in Nicolas Sarkozy… duuh! But then, we did vote in John Winston Howard and the Americans voted in George W Bush, and look where that got us both. Just out of curiosity, do the Americans still call their French Fries Patriot Fries? 🙂
Casablanca – French National Anthem

Video: YouTube
Since the Germans get a mention in the above clip, I'll declare there is some German blood flowing in my veins. The Germans are good people, they are great organizers and engineers, they build great cars and roads, however they are not noted for their cuisine… and they can't win wars. 🙂
Aussies on the other hand, are up for helping the underdogs, we are very inventive, still have a sense of fairness, despite the fact that John Winston Howard did his best to kill off most of our good traits. We still for the most part are disrespectful of authority and pretentiousness, we are great organizers and engineers, we're fans of the ironic, we're good mates but really dangerous enemies, in WWI, WWII & Vietnam, Aussies, largely due to our self-reliant nature, were the first amongst the allies to win battles, and in fact in sooo many other areas we excel in proportion to our GDP and population… not unlike like our sheep loving cousins across 'The Ditch', the Kiwis (New Zealanders). 🙂
In those aforementioned wars the Aussie National Anthem of choice was Waltzing Matilda.
Waltzing Matilda

Video: YouTube
Sorry about Rolf Harris… like Rupert Murdoch he's an expat, but the clip explains our alternative National Anthem.
The pretentious amongst us, you know politicians and the social elite, hate the idea of Waltzing Matilda being our National Anthem, they say a National Anthem about stealing etc. is unbecoming… most Rijidij Aussies would see the irony in that.
POST CONTINUES Read more

Video: YouTube
How cool is the Didgeridoo music… turn up the volume!
The Australian Aborigines are, like so many 'primitive' races, a truly remarkable people and I'm ashamed to say, Australia in general, have treated them appallingly. This race of people have been in Australia for over 60,000 years, which means they have experienced probably two Ice ages at least, and managed to thrive in areas that most white men, would be lucky to see out a couple of days without their technology.
Their ability to survive on this continent is a credit to their ingenuity, though those ignorant of what that means may mistakingly judge them by their lack of worldly goods, or the fact that they never developed animal husbandry. Well, taking the issue of animal husbandry first… just what were they going to practice on, there were no cattle of any description, no sheep, goats, pigs or rabbits, till white man arrived, and no primitive fence was ever going to contain Kangaroos nor Emus.
Regarding farming, our continent is very old so the soils weren't brilliant, the rain fall over the vast majority of Australia is minimal, so farming even now is difficult, and would be still so without irrigation over most of Australia. Yet they not only survived they developed a rich culture with an oral history going back tens of thousands of years, an art form which is part of that history, in that it describes their history and records where food and water can be gotten.
Now if you would like to learn more and see the sorts of country they survive in check out the Warakurna Community, pull back on the map and have a look around… think about how long you would survive in this type of country.

Video: YouTube
This video was just on Australian ABC TV (public) 'Spicks and Specks' it's of a bunch of very successful Aussie Rock 'n Rollers hamming it up… it's still very Australian.
"Recorded in LA Jan 1977 with Daryl Cotton, Steve Kipner, Billy Thorpe, Brian Cadd, Russell Morris and Rick Springfield. A lament for all the Aussie expats.The song was never released". – YouTube
Comments