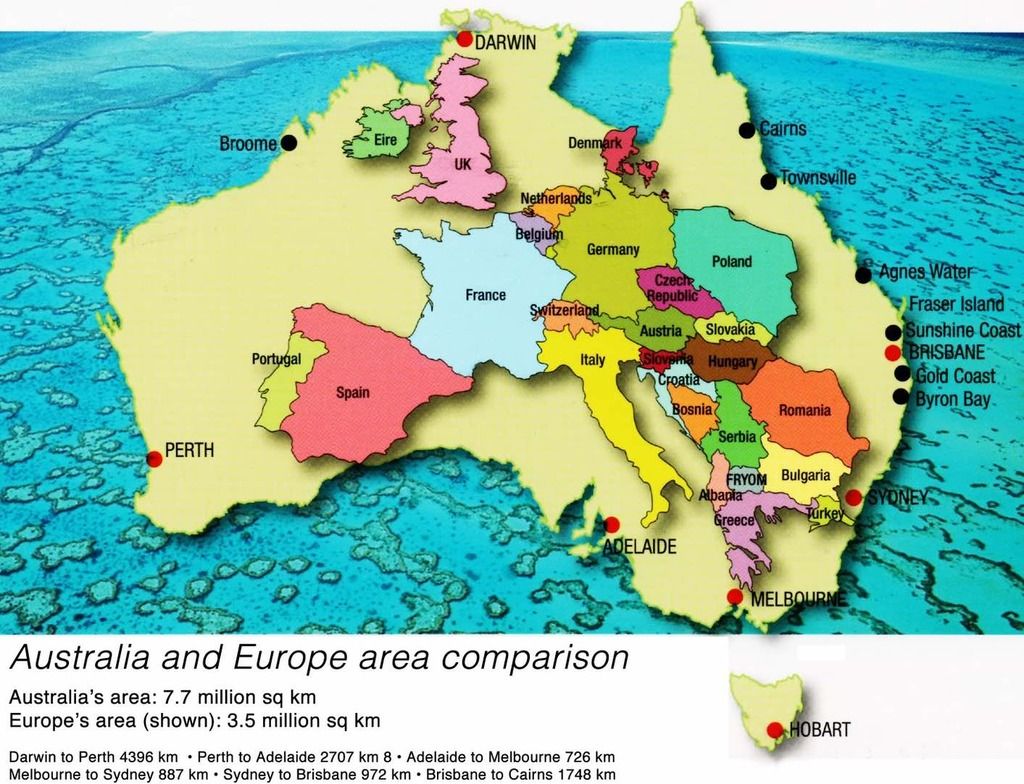 Perspective is a wonderful thing. When shown like this, it's so much easier to see how big Australia really is.
John Farnham sings with Jimmy Barnes at the Under The Southern Cross Concert in 1988. 2 Absolute legends of the Australian Music Industry doing what they do best.
Click here to see another classic song from the Under The Southern Cross Concert in 1988 –>> Read more

Video: The Chasers War, via YouTube
Australian humour doesn't always work in other parts of the world. As one viewer said "If you tried this in the U.S you would have 30 rounds in you before you hit the ground". As aussies we just think it's funny and get a really good laugh.

Video: Wes Carr via YouTube
Feels Like Woah by Wes Carr is one of my favourite songs, I really love the fresh rock sound, a little like a softer version of Cold Chisel or Bruce Springsteen. Wes may have come from Australian Idol, but he is definintely not a manufactured musician, he has real talent.

Video: YouTube
This ad was used quite a few years ago when promoting the Beer but also the Rugby Union contests between Australia and New Zealand. It's very funny.
We have shown Fairytale of New York on Getalookatthis before and so some of you may have seen it already. In this post I would just like to add another version of the song. This time I have added the version by Tex Perkins ( Former lead singer of The Cruel Sea ) and Clare Bowditch ( another home grown Australian talent ). The duet by Tex and Clare was performed during a Rockwiz Christmas Special in December 2007.
For those of you who don't know, Rockwiz is an Australian show aired on SBS Television. The show is a Rock Quiz ( hence the name Rockwiz ) and includes 2 teams each with 2 audience members and 1 musician who then answer a number of rock and music questions. It would have to be one of my favourite alltime shows, along with ABC Television's equivalent show called Spicks and Specks. Anyway enough rambling and back to the music, enjoy!
Fairytale of New York by Tex Perkins and Clare Bowditch

For the Lyrics and original version by The Pogues and Kirsty MacColl click here –> Read more

Video: YouTube
Sam is the famous Koala who got a drink from a friendly Firefighter by the name of David Tree. She seems to have won a few hearts around the world. Apparently she grabbed the hand of David and drank 3 bottles of water.

Video: YouTube
Marry Me is last years Tropfest Australia winning film. The film is inspired by a true story in which the Director Michelle at the age of 5 used to chase Jason Mahooney around their school yard in a pretend wedding dress (her mother's nightie).
Website: Tropfest on YouTube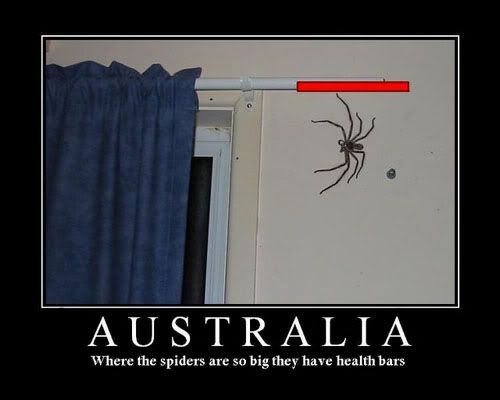 Photo: Healing Spirit
Spiders do get big here in Australia, fortunately this species is fairly harmless. Wouldn't like it to drop off the wall onto your face while you were sleeping though.
Thanks to healing spirit for this photo, see more of healing spirit's images at the link below.
Website: Healing Spirit on Photobucket

Video: YouTube
Well I guess India's colorful cotton, particularly with the Paisley design, made a lot of hippies happy… yes I admit it, I had Paisley shirts, and as much as it embarrasses me… I wore flared pants too, but it gets much worse still, I had flared cords. My only relief comes from the fact that Flares are making a come back… and just to get back a little more esteem, I'll tell Gen Y don't do it! Knowing they'll take no notice of me.
Gandhi supported the Indian cotton industry, in fact from memory such as it is (injury related), I believe he used that support to start his peaceful revolution against the British Empire, or to be more correct, the British Royal families East India Company business interests, which included Opium.
As far as the cotton industry is concerned, personally I find it offensive that foreign (American I believe) owned companies are growing cotton and Rice in Australia, and are I believe largely responsible for polluting what is arguably Australia's most important river… the upside I guess is that their water uses is sooo excessive, that luckily the once Mighty Murry has almost run dry, saving us from being poisoned by the chemicals and pesticides used in the production of the cotton and rice crops. For those amongst you that don't get Irony (most Americans) that was not just sarcasm but ironic sarcasm.
The cure of course is that we should swap Cotton for Hemp, which is a stronger and I believe better cloth, can be used to make high quality paper (no more cutting down trees for paper), insulation and building materials etc. and it will grow almost anywhere, requires less water, no chemicals, it actually improves the soil, and the seeds are a far better food source than Rice.
But they (the Americans) wont like that, it's apparently OK to sell cigarettes which kill millions, but not Hemp (Pot) that has never in recorded history killed a single person… again for those that don't get Irony, that's yet another example. And what has all that to do with India… bugger all, I just thought I'd get it off my chest.
Comments