Video: YouTube
Being a lover of most things that fly… especially amphibious aircraft, but an amphibious aircraft who's wings pivot and fold back flush against the fuselage, I want one too, and I'm not a developer in the Bahamas! 😉
At an Estimated Price: $139,000 USD it's a bit pricey, however, I would not be using a 100-hp Rotax 912 ULS engine, I'd opt for the converted BMW 1200 bike motor, much the same power, but in my opinion a much better engine… the Germans can't win wars, but they are excellent builders of reliable cars and bikes, and when your zipping around in the air, reliability, experience in engineering and quietness are all important considerations, wouldn't you agree.
Website: Icon Aircraft

Photo: Point Niner

Photo: Point Niner
The F111 was flying at 900m (3,000′) on a test bombing run at Evans Head, northern NSW, when it struck a pelican with the fiberglass nose. The pelican was then sucked into one of the engines, which naturally enough reduced it's power. It must be said that the air crew did a magnificent job of nursing the aircraft, on it's 30-minute flight back to the Amberley Base, despite the damaged nose, wing and engine.
Australia is the only country in the world that still has F111 Long-range strike fighters, and although they are quite old, they are a very different aircraft from what they were originally. These 'Pigs', as they are affectionately known, a nick name related to it's long nose and it's ability to 'get down in the dirt', whilst using it's TFR (Train Following Radar). It's a truly awesome sight to watch one of these high speed behemoths hugging the ground, a tactic used in the 'Hi-Lo-Hi' operations. The F111 are still much loved and still an extremely effective aircraft.
Air Commodore Ted Bushell (rtd) has gone on record to say: "The F111 was quite capable of going out to 2020 and beyond and still retaining a very real deterrent and strategic strike capability throughout our region". Unfortunately our politicians think they know better and they are talking about retiring the F111 by 2010. I've thousands of hours in various aircraft and been around aircraft for most of my life. I've also seen the F111 up real close and I have mates who have flown F18s to Porters and I've yet to meet anybody who knows what they are talking about; and doesn't have a vested interest, who agrees with the government on this retirement in 2010.
POST CONTINUES Read more

Photo: Defence-data
The Australian Jindalee Radar System
The United States of America spent $11 billion developing an aircraft that could not be detected by radar. Scientists at the CSIRO then concluded that if the plane could not be detected, perhaps the turbulence it makes passing through air could be. $1.5 million later, in 1995, the Jindalee Radar system had transformed the stealth bomber into nothing more than an unusual looking aircraft.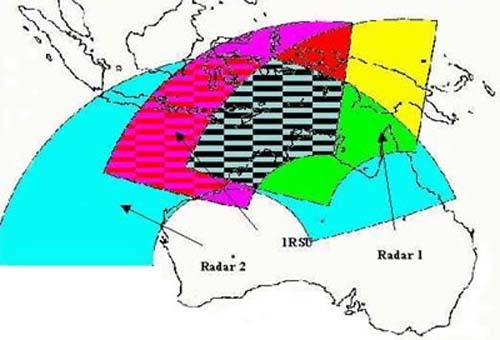 Photo: Defence-data
POST CONTINUES
WARNING Politics & Boasting
Read more
I don't care what 'some people say', I'll make up my own mind, and if I was there I'd say… "I'd feel a lot more comfortable if this guy didn't walk away from this one." And I might add, "What a terrible thing to happen to such a beautiful aircraft."

Video: YouTube

Photo: Private Cloud
The translation from German to English goes something like This:-
"With Private Cloud offers a unique piece of furniture, which by ourselves to the highest quality standards developed, produced and marketed. The schaukelnde bed requires little more space than a "normal" bed, but revolutionized every bedroom. Convince yourself and make yourself on the following pages, even an impression of private Cloud."
No I've spent a bit of time in clouds, and although the look nice and inviting, they are not, they are generally damp, cold and scary places to be in a light aircraft… known to hide Granitious Columbus (mountain in clouds).
Not too impressed with the name but I love that bed.
POST CONTINUES Read more

Video: Myspacetv

This is a strange type of glider/hand glider. I don't think that I would like to fly this thing.


Video: YouTube
Just thought these ultra ultra Ultralite model aircraft are pretty neat… one question though, what on earth was that remote control unit doing there, the aircraft are way too lite to be remote controlled?

Video: Metacafe


For those who have been with us for a while you may have noticed I have a thing for aviation and though the only experience I have had with model aircraft was watching a neighbor chase his dog around his back yard with his model aircraft (the dog was obviously not stressed about it). As hobbies go, model aircraft are cool, the building as well as the flying takes considerable skill and dedication which I appreciate.
The model is of a Boeing B-29 Superfortress, one of the largest aircraft to see service during World War II and the Korean War. The Superfortress was one of the earlier pressurized aircraft, it had a central fire-control system, remote-controlled machine gun turrets and it carried the atomic bombs that destroyed Hiroshima and 3 days later Nagasaki.

Photo: Email from a mate
U.S.Navy releases Al Qaeda Terrorist – I can't believe it!!!
The US Navy today announced that it has released a senior Al Qaeda terrorist after questioning him extensively for 27 days while being held prisoner aboard a US aircraft carrier in the Arabian Sea.
In a humanitarian gesture, the terrorist was given $50 US and a white 1962 Ford Fairlane automobile upon being released from custody.
This picture was sent to me by email from a mate of mine.

Video: YouTube
Russia's Antonov An-225 built in 1988; the only one in the world, is still 20 years later, the World's Biggest aircraft weighing all up 1.4 million pounds. It's 276 ft long with a fuselage some 60 wide, to say it's really Big is an understatement. It can carry 250 tons of cargo, almost twice the tonnage of the US's biggest plane the Galaxy.
Website: Antonov An-225
Thanks John,
John sent us an up date on the Antonov An-225 Mriya… there's a second on the way, if either one of these aircraft come to Sydney I'll do my best to go have a look.
Comments