This farm is absolutely amazing. They have 10,000 fish and 500 yards of compost and produce 1 MILLION pounds of Food per year. This has to be the way of the future if we are going to feed the population of Earth as we grow.
The beauty about this type of system is that it could also be utilized on marginal land as well.
A wife goes out for a night with the girls, telling her husband she'll be home around midnight.
Midnight passes by, drinks are flowing, the girls are laughing and having a great time. At around 2:45 in the morning, drunk as hell, she finally gets a cab and makes her way back home.
She gets to the front door and ever-so-gently nudges it open, not making a sound. She takes her shoes off, again not making a sound. Knowing her husband will give her hell for coming home so late and drunk, she's quite proud of herself for being so stealthy.
Just then, the cuckoo clock in the hallway goes off, cuckooing 3 times. Realizing he might wake up, she decides to cuckoo another 9 times. She smiles to herself, proud that she'd come up with such a clever solution on the spot. He'd never know the difference!
That next morning during breakfast the husband looked at his wife, obviously hungover, and asked, "So… what time did you get in last night?"
"Oh, right around midnight," she replied. The husband didn't seem disturbed at all, her plan had worked!
"Well," he said, "I think we need a new cuckoo clock."
"Why do you say that?" she asked.
"Because last night the one we have cuckooed 3 times, then said 'oh shit,' cuckooed 4 more times, cleared its throat, cuckooed another 3 times, giggled, then tripped over the coffee table and farted."
Website: reddit.com, A wife comes home after a night out with the girls

Video: YouTube
If this bloke wasn't a greeny ( Tree Lover ), before this incident then I bet he is now. I think that all spectators should be banned from being on the outside of a corner in any sort of car race.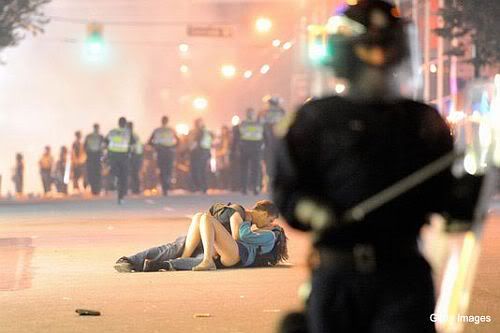 Photo: Getty Images
An Aussie Bloke (Scott Jones) and his Canadian girlfriend (Alex Thomas) show the world how to "Make Love not War". Apparently Alex had been knocked down during the riots which took place after the Vancouver Canucks hockey team lost Game 7 of the Stanley Cup final to the Boston Bruins. Scott was consoling her when this photo was taken by freelance photographer Richard Lam.
Maybe the rioters could take a look at Scott and Alex's example and think for a moment that it was only a game of Hockey and not worth starting a riot over.
Website: Yahoo Sports

Video: YouTube
Another clever commercial, Obviously a fake but well done none the less.

Video: YouTube
I like the simplicity of this commercial. Very funny.

Video: Youtube
All I can say is how true is this.

Video: YouTube
This is good, I get too many telemarketers call me, so I can see the funny side of this.

Video: YouTube
Well he is really a Verger, but cardinal sounds better, this fella was obviously having some fun on the day.

Video: YouTube
To me, this story is a very inspirational one. Although it does seem to have created some debate as to whether the pilot betrayed his country by not shooting down the bomber. Some German people have commented that the bomber may have been responsible for killing Germans, some English have commented that the Germans were responsible for Killing some Allied personnel.
What this story illustrates to me is that Franz Stigler, the German Pilot as well as being a man of Honour, probably didn't want to be killing anyone, probably didn't want a War at all, and when faced with the dilemma that he found himself in, his compassion shone through.
Comments