This farm is absolutely amazing. They have 10,000 fish and 500 yards of compost and produce 1 MILLION pounds of Food per year. This has to be the way of the future if we are going to feed the population of Earth as we grow.
The beauty about this type of system is that it could also be utilized on marginal land as well.

Video: YouTube via Camo's Reptiles
To see more of these types of videos and more about reptiles please see Camo's Reptiles at the link below.
Website: Camo's Reptiles

Video: YouTube
Magpies are seriously crazy birds when you enter their territory around breeding time. I remember being hit in the head by one when I was about 10 years old, it really hurt too.
These 2 magpies are really intent on trying to get this plane out of the sky.

Video: Stupidvideos.com
I recently stumbled on this video of what I think must be one of the strangest birds in the world. It looks so much like a furby. When I looked them up on Wikipedia, they do actually exist and are not fake.
See this link below on Wikipedia.

Photo: Lou Lineker via abc.net.au
A Sydney snake has got itself a free ride. The Green Tree Snake appeared from a vent near the windscreen while Lou Lineker and her family were travelling towards the Sydney Harbour Bridge. The family had nowhere to pull over at the time and the snake stayed in view for about 5 minutes before it disappeared back where it came from. When the family returned home and looked for the snake it was gone.
Website: ABC: Free riding snake
This seems to be an amazing story, but I am sure that CNN would not have run it if it didn't have some form of truth to it. You make up your own mind.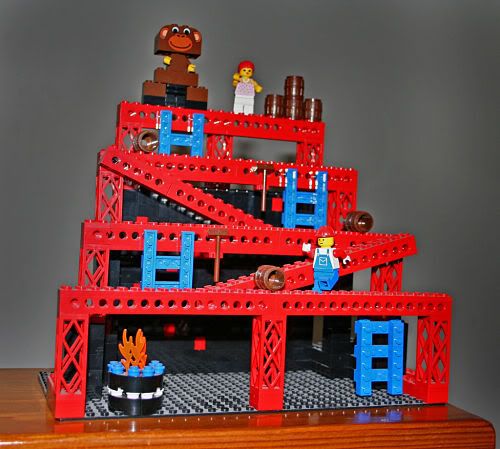 Photo: Fantastic Rob's Flickr set
Donkey kong was always the game I wanted as a kid, but it was $39.95 in about 1982-83, which for all of you people less then 30 years old was a crap load of money back then. I ended up getting a less expensive octapus game instead, I think it cost about $12-$15 and was OK but oh to have owned Donkey Kong.
Anyway a few of my friends owned it and I got to play from time to time.
Below is a working lego version that I found on Gearfuse.com a really neat site that I hadn't seen until recently.

Video: YouTube via Gearfuse

Video: YouTube
Sam is the famous Koala who got a drink from a friendly Firefighter by the name of David Tree. She seems to have won a few hearts around the world. Apparently she grabbed the hand of David and drank 3 bottles of water.

Video: YouTube
This video is about 8 months old, but I hadn't seen it yet. Very funny how some people are so focused that they don't notice things like I"M TWO AND A HALF FEET TALL and later he says he is GREEN.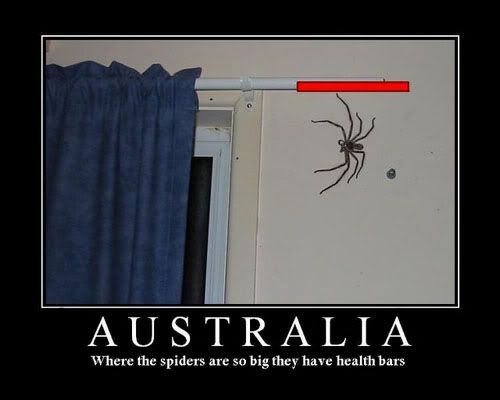 Photo: Healing Spirit
Spiders do get big here in Australia, fortunately this species is fairly harmless. Wouldn't like it to drop off the wall onto your face while you were sleeping though.
Thanks to healing spirit for this photo, see more of healing spirit's images at the link below.
Website: Healing Spirit on Photobucket
Comments