Video: YouTube
Another clever commercial, Obviously a fake but well done none the less.

Video: YouTube
I like the simplicity of this commercial. Very funny.

Video: YouTube
This is good, I get too many telemarketers call me, so I can see the funny side of this.

Video: Yellow Pages via YouTube
Yellow pages ads here in Australia are often very funny. This one called Thai Harder is no exception.

Video: Stupidvideos.com
This is quite funny, I laughed a lot when I first saw it. Not sure what they are advertising, maybe if you are Russian and reading our website you can let us know via the comments.

Video: YouTube
This ad was used quite a few years ago when promoting the Beer but also the Rugby Union contests between Australia and New Zealand. It's very funny.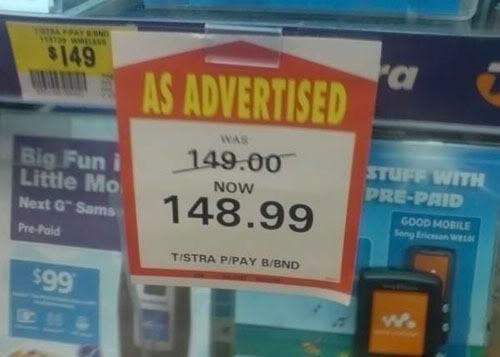 Photo: Unknown
Absolutely amazing bargains at our once in a lifetime sale, get in before they all go out the door.

Video: YouTube
About 1 and a half years ago the BumpTop desktop was featured on Ted Talks. Now I haven't heard anymore about it, I wonder why it seems to have paled into insignificance.
UPDATE: Anand (the inventor of the Bumptop Desktop) has told us that the Bumptop is in private Beta and launching soon, as shown in the comments below. I would like to give this system a go when it comes out.
Website: Bumptop Desktop

Photo: dribbleglass.com
What an excellent idea I'll call you straight away so that I can get my phone working, Oh wait on I can't.
Website: Phone out of order

Video: Samurai Girl and EepyBird.com via YouTube
This video is so cool. Very imaginative and lots of work to setup I would think.
Comments