Video: YouTube
If this bloke wasn't a greeny ( Tree Lover ), before this incident then I bet he is now. I think that all spectators should be banned from being on the outside of a corner in any sort of car race.

Video: Craig Williams Cisco Flip Video via YouTube
This waterfall is in the rainforest on our property. We love to go here and chill out. It's only 5 minutes from the highway, but you could be miles from anywhere. It really makes me appreciate nature and all it's natural beauty.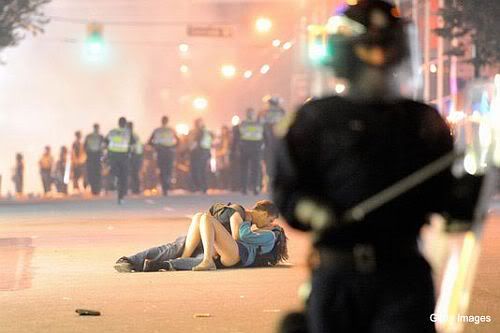 Photo: Getty Images
An Aussie Bloke (Scott Jones) and his Canadian girlfriend (Alex Thomas) show the world how to "Make Love not War". Apparently Alex had been knocked down during the riots which took place after the Vancouver Canucks hockey team lost Game 7 of the Stanley Cup final to the Boston Bruins. Scott was consoling her when this photo was taken by freelance photographer Richard Lam.
Maybe the rioters could take a look at Scott and Alex's example and think for a moment that it was only a game of Hockey and not worth starting a riot over.
Website: Yahoo Sports
Comments