Well I would have thought that the result was a given, obviously not.
Diversity wins Britain's Got Talent final


Video: YouTube
After watching Diversity perform in the final, I must say that it was an incredibly hard choice, Susan Boyle or Diversity. I guess Susan's career and future has already been set, so I wasn't that upset that Susan Didn't come first.
Susan Boyle comes second in Britain's Got Talent


Susan Boyle is an amazing talent and she is certainly no loser, she is destined for a wonderful career in music.

Video: Wes Carr via YouTube
Feels Like Woah by Wes Carr is one of my favourite songs, I really love the fresh rock sound, a little like a softer version of Cold Chisel or Bruce Springsteen. Wes may have come from Australian Idol, but he is definintely not a manufactured musician, he has real talent.

Video: Daily Motion
Susan Boyle has done it again, with a wonderful performance of Memory from the musical Cats. Susan has completely stunned the world with her amazing voice and is surely the favourite to take out the final of Britain's Got Talent.

Photo: Lou Lineker via abc.net.au
A Sydney snake has got itself a free ride. The Green Tree Snake appeared from a vent near the windscreen while Lou Lineker and her family were travelling towards the Sydney Harbour Bridge. The family had nowhere to pull over at the time and the snake stayed in view for about 5 minutes before it disappeared back where it came from. When the family returned home and looked for the snake it was gone.
Website: ABC: Free riding snake

Video: YouTube
The Eurovision Song Contest may not be everyones "Cup of Tea", but for those of you who do like it here is the winner for 2009. The name is Alexander Rybak from Norway and his song is Fairytale.
This seems to be an amazing story, but I am sure that CNN would not have run it if it didn't have some form of truth to it. You make up your own mind.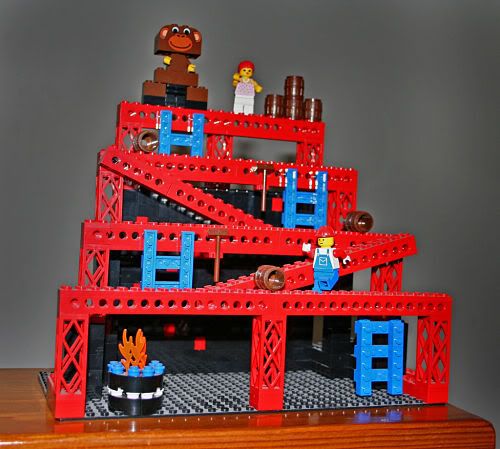 Photo: Fantastic Rob's Flickr set
Donkey kong was always the game I wanted as a kid, but it was $39.95 in about 1982-83, which for all of you people less then 30 years old was a crap load of money back then. I ended up getting a less expensive octapus game instead, I think it cost about $12-$15 and was OK but oh to have owned Donkey Kong.
Anyway a few of my friends owned it and I got to play from time to time.
Below is a working lego version that I found on Gearfuse.com a really neat site that I hadn't seen until recently.

Video: YouTube via Gearfuse
Comments