Video: Metacafe
Some of these laws are absolutely crazy, this just makes me think that some of these early day politicians were definitely on some sort of happy weed. Or they just wanted to mess with our heads.

Video: YouTube
While on the subject of great songs from 1982, who could forget "Gloria" by Laura Branigan. I love this song, it always seems to take me back to those early teenage years.

Video: YouTube
1982 has to be one of mhy favourite years for classic 80's songs. One of the best of 1982 would have to be Eye of the tiger by Survivor.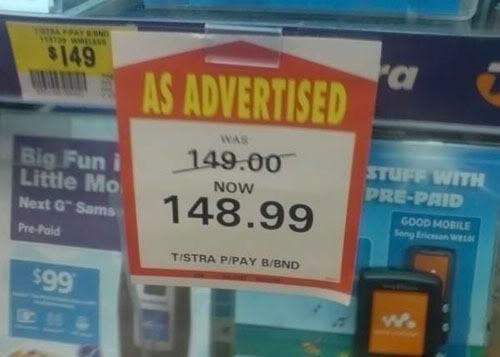 Photo: Unknown
Absolutely amazing bargains at our once in a lifetime sale, get in before they all go out the door.

Video: YouTube
Sam is the famous Koala who got a drink from a friendly Firefighter by the name of David Tree. She seems to have won a few hearts around the world. Apparently she grabbed the hand of David and drank 3 bottles of water.

Video: VLADTV.COM
This trail sure is about as scary a walking path that you would ever like to hike along. I don't know why this trail was put here, but I would like to find out more about it.
On closer inspection of the video it appears that the path had something to do with an old irrigation or water supply system, and the path allowed the workers access to the control systems or for the building of the system to take place.
Comments