Video: YouTube
This video of close calls and near misses is amazing. Some of the people in this video were so close to being really injured or worse and yet most of them just seem to walk away without much emotion at all.
Seinfeld Directors cut Instead we have Funniest Seinfeld Moments Part 1

Video: Sony, via YouTube
Seinfeld is one of my favourite television shows of all time. I still laugh myself silly when I look at the old episodes from time to time. This short video is a collection of the directors cut that was aired I think from memory just before the final episode.
Sorry folks, above video pulled for copyright reasons, please enjoy the funniest moments below
PLEASE NOTE, I am merely displaying the video below to illustrate what a great Television Show Seinfeld was and how much I enjoyed watching it. If you like what you see, please do yourself a favour and go out and buy the DVD Box set or Subscribe to Stan.com.au to see all of the Seinfeld Episode in the comfort of your own home
Anyway if you are not an avid Seinfeld viewer maybe you can see what so many found so funny about this wonderful show.
Two of the sweetest soundings Christmas songs I have ever heard are both sung by Candice Night, she is the female voice of the band called Blackmore's Night and along with Richie Blackmore of Deep Purple fame they formed this Renaissance-inspired folk rock band.
As it is just less than an hour away from Christmas Eve here in Australia I thought that Christmas Eve would be an appropriate song to play, so sit back for a few minutes and enjoy the wonderful voice of Candice Night.
Christmas Eve

Video: YouTube
Emanuel

Video: YouTube
Bruce Springsteen is an eternal favourite of mine and I may be biased but I think his version of Santa Claus is coming to town is about as good as it gets.
Santa Claus is coming to town

Video: YouTube
Merry Christmas Baby

Video: YouTube

Video: YouTube
Fairytale of New York, One of my favourite all time Christmas Songs, right up beside Bruce Springsteen doing Santa Claus is coming to town, Sorry, i'm off track a little, back to Fairytale of New York.
The Song is a written as a collaboration between Jem Finer and Shane MacGowan and has its roots back in 1985, however was first released as a single on 23rd Novemeber 1987 by their Band The Pogues. The song was written as a duet, with the Pogues' singer MacGowan taking the role of the male character and singer-songwriter Kirsty MacColl the female character.
Some Interesting facts about the song via Wikipedia
"Although the single never reached the coveted UK Christmas number one, being kept at number two on its original release in 1987 by the Pet Shop Boys' cover version of "Always on My Mind", it has proved enduringly popular with both music critics and the public: to date the song has reached the UK Top 20 on thirteen separate occasions since its original release in 1987, including every year since 2005, and was certified platinum in the UK in 2013. The song has sold 1.18 million copies in the UK as of November 2015. In the UK it is the most-played Christmas song of the 21st century. "Fairytale of New York" has been cited as the best Christmas song of all time in various television, radio and magazine related polls in the UK and Ireland."

Video: YouTube
With Christmas fast approaching once again I thought it might be time to introduce Festivus to those of you have may not have been Seinfeld fans. Festivus is a celebration for the rest of us. See the story of Festivus as described on Seinfeld. George's worst nightmares are revealed as Festivus rears it's ugly head once again.
See the original story of Festivus below, or are they just having a go at us? POST CONTINUES Read more

Video: YouTube
A lot of well known and good actors passed away during 2008, here is a video which honours them.
Click here to see a list of these wonderful actors and actresses. Read more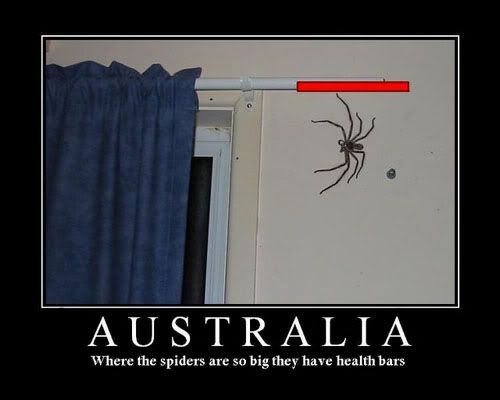 Photo: Healing Spirit
Spiders do get big here in Australia, fortunately this species is fairly harmless. Wouldn't like it to drop off the wall onto your face while you were sleeping though.
Thanks to healing spirit for this photo, see more of healing spirit's images at the link below.
Website: Healing Spirit on Photobucket
Comments