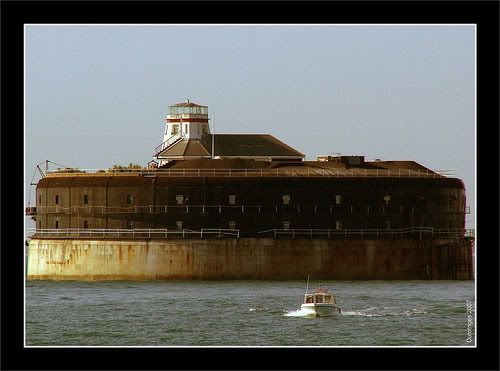 Photo: Flickr Set by durotriges
We previously stated in an earlier post that the Island of No Mans Land Fort was for sale for 20 Million Dollars. We have now learnt that this is not the asking price.
The story as related by BBC news is that the Island is up for sale by creditors KPMG, due to the fact that the company who owns the island is in receivership.
The asking price for the island is a mere 4 Million Pounds or approximately 7.85 Million US Dollars.
In an even more amazing twist for the historical island, the previous owner, property developer Harmesh Pooni has recently barricaded himself on the island and refused to allow anyone to land by boat or helicopter.
"In a statement, a KPMG spokeswoman, said: "Mr Pooni has never been the freeholder of No Man's Land Fort but was a director of Bob's Leisure Limited a company, which was the registered freeholder of the fort, having purchased it using monies borrowed from Lexi Holdings Plc."
"Bob's Leisure Limited went into administration on 26 October 2004 and Mr Pooni was made bankrupt on 23 January 2006.
"Lexi Holdings Plc were left as a creditor of Bob's Leisure Limited as the loan had not been repaid.
"It is our view that Mr Pooni is trespassing on the fort."
"Mr Pooni said he came out of bankruptcy in November 2006 and Bob's Leisure Limited was "reconstituted" in December 2007.
He claims he has a legal right to benefit from the proceeds of the sale of the fort
The battle is now set to move from the high seas to the High Court as it is the subject of possession proceedings, which were transferred there on 5 March."
Website: Man barricaded in No mans land
Comments