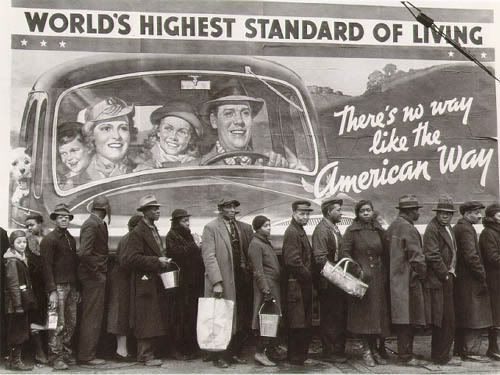 Photo: masters-of-photography.com
A little bit of irony and a bit of humour in this image, queuing up for welfare in the country with the highest standard of living. Sure many people in the States are very well off, but there are a lot of forgotten, mistreated and poor people.
Maybe if the next president spent more money on the American people and less on trying to get control of Iraq's oil, maybe then the many homeless and poor people could be given a bit of a hand up and trained so they can work and get themselves jobs and support themselves.
Sure George Bush says we have to save the Iraq people from dictators like Saddam, but what about the atrocities performed by Robert Mugabe, the former Zimbabwe leader. I didn't see George W trying to go in and free these people from the tyranny, maybe it's because Zimbabwe does not have any resources that the big business bastards in America needs.
So back to my main point, The American Government needs to spend more of it's money looking after it's own people, more training, more education, more skills, all of these and more if introduced on a big scale across the country would do wonders at eliminating much of the poverty that exist in the country with the so called best standard of living in the World.
Website: Living in America
Comments