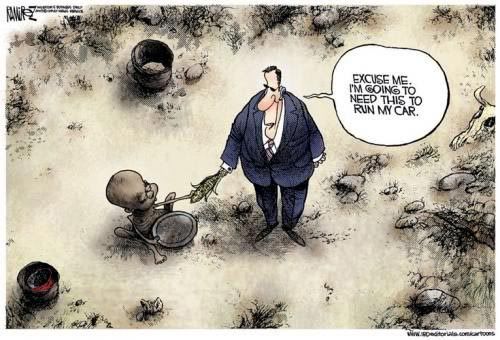 Cartoon: Stumble
Not much I can say about this Cartoon is there?
What I will say is there are two sources of energy in Australia which would, I believe, be viable alternatives for petrol. Firstly there is the garden variety Natural Gas, which is far far cleaner than Oil. Natural Gas is in abundance in Australia and it would not be that hard to convert our cars to run on Natural Gas, and nobody would have to starve.
The other alternative is quite a bit more involved and some of the initial bottle necks would be, there are at present far too few electric cars and too little base load power at present to switch all are cars over to Electric… which could be easily solved by investing in Australian photovoltaic (solar cells) and putting them on all domestic roofs first.
The domestication of photovoltaic power has just started in Australia, after almost 13 years of John Winston Howard's governmental environmental vandalism. There's now light at the end of the tunnel, because the South Australian Government has now adopted a Feed In Tariff, which will pay the consumer DOUBLE the retail price for electricity they feed back to the grid. When they did that in Spain, Spain went mad on solar panels, and it will hopefully soon have much the same effect in Australia.
Meanwhile the NSW government, a Labor government which, I'm embarrassed to say, is trying to do the same as they did in California, that is, sell off the publicly owned Electricity, because they say they can not afford to build the new power plants necessary… Hello! This sunburnt country is being out Solared by countries like Germany with half the sunlight, and all you hear on the media is the Unions are against privatization… what a load of bullshit. The vast majority of the NSW people do not trust big business and they don't want it's Electricity privatize, no more than the average car owner wants to burden the starving still more, by steeling what little food they have for our cars.
Comments