Here in Australia our previous Government payed millions for a anti terrorism ad campaign which had the slogan 'Be alert not alarmed' The USA has a website called ready.gov with a slogan 'Ready, prepare plan stay informed'.These campaigns appear to be along the lines of the good old 'Duck and cover' days.
Anyway, just for a laugh I thought I'd post these few images with funny captions that I found on safenow.org. Be aware that these are only light hearted looks at the images and how funny some of them are.
Make sure if you spot a terrorist or group of terrorists that you immediately pull out your semi automatic weapon and do an 'Arnie' on them. Ha Ha Ha just kidding run in side and try and find your Government anti terror kit and see what it says to do!




If you have set yourself on fire, do not run.





If you spot terrorism, blow your anti-terrorism whistle. If you are Vin Diesel, yell really loud.





If you spot a terrorist arrow, pin it against the wall with your shoulder.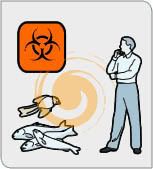 People, animal corpses and the biohazard symbol are all at risk of being sucked into the time-tunnel vortex.


POST CONTINUES many more funny images and captions




Use your flashlight to lift the walls right off of you!





If a door is closed, karate chop it open.





If your building collapses, climb under your table and practice yoga postures.





Do not drive a station wagon if a utility pole is protruding from the hood.





If your intended destination is suddenly vaporized, consider pulling over and watching the cool light show.





If you hear the Backstreet Boys, Michael Bolton or Yanni on the radio, cower in the corner or run like hell.
For more of these funny images and captions please see the website link below.
Website: Be alert not alarmed
Comments