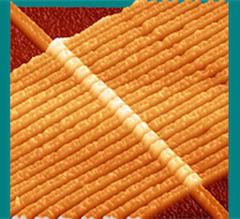 In an exciting breakthrough, scientists from HP Labs have built working prototypes of a new electronic circuit component called a 'Memristor'. The device may lead to instant-on PC's and analog computers that act in the same way a human brain does.
Until recently the Memristor had only been described using mathematical equations written back in 1971 by engineering student Leon Chua. Although Chua knew this circuit element should exist, he was unable to come up with a physical manifestation of the component.
"Thirty-seven years later, a group of scientists from HP Labs has finally built real working memristors, thus adding a fourth basic circuit element to electrical circuit theory, one that will join the three better-known ones: the capacitor, resistor and the inductor."
The researchers believe this discovery may be integral in the production of Instant-on PC's and more energy efficient computers and even computers that act in the same way as the human brain.
See the full story at the website link below.
Website: Memristor
Comments