Photo: Point Niner

Photo: Point Niner
The F111 was flying at 900m (3,000′) on a test bombing run at Evans Head, northern NSW, when it struck a pelican with the fiberglass nose. The pelican was then sucked into one of the engines, which naturally enough reduced it's power. It must be said that the air crew did a magnificent job of nursing the aircraft, on it's 30-minute flight back to the Amberley Base, despite the damaged nose, wing and engine.
Australia is the only country in the world that still has F111 Long-range strike fighters, and although they are quite old, they are a very different aircraft from what they were originally. These 'Pigs', as they are affectionately known, a nick name related to it's long nose and it's ability to 'get down in the dirt', whilst using it's TFR (Train Following Radar). It's a truly awesome sight to watch one of these high speed behemoths hugging the ground, a tactic used in the 'Hi-Lo-Hi' operations. The F111 are still much loved and still an extremely effective aircraft.
Air Commodore Ted Bushell (rtd) has gone on record to say: "The F111 was quite capable of going out to 2020 and beyond and still retaining a very real deterrent and strategic strike capability throughout our region". Unfortunately our politicians think they know better and they are talking about retiring the F111 by 2010. I've thousands of hours in various aircraft and been around aircraft for most of my life. I've also seen the F111 up real close and I have mates who have flown F18s to Porters and I've yet to meet anybody who knows what they are talking about; and doesn't have a vested interest, who agrees with the government on this retirement in 2010.
POST CONTINUES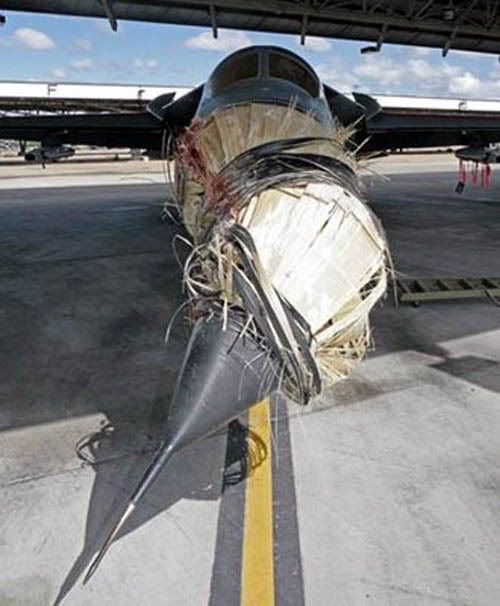 Photo: Point Niner

Photo: Point Niner
These are an awesome aircraft and if it were my decision, I'd be buying some of the US's mothballed F111s and adding to the fleet, keeping some for spares and either back engineering a few, with a view to modernizing them with the appropriate new engines etc.
Our current F111s are powered by two Pratt and Whitney TF-30-p-3 turbofans, rated at 12,500 lbs static thrust or 21,000 lbs.s.t with after burners. This pushes the F111 along at Supersonic speeds (1,400 kph) at sea level, Mach 2.5 (2,400 kph) at altitude, with a Combat radius: 2,140 km, a Ferry range of more than 5,500km, a Service ceiling 62,000 ft (almost 19,000 m) and a Rate of climb: 25,890 ft/min (131.5 m/s).
The F111 weapons include, Harpoon anti-ship missiles, Sidewinder air-to-air missiles, Laser-guided bombs and of course Conventional bombs. It's Avionics includes Digital flight controls, TFR (Terrain-following radar), Attack radar, Pave Tack target system and a Inertial navigation and integrated weapons system. The F111 has a maximum ordnance payload of over 17,00kgs.
Website: Point Niner
Comments