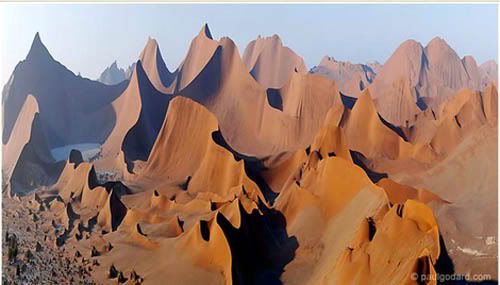 Photo: Stumble via Paul Godard
Man mother nature throws up some strange things, mmm. Then I thought, wait a second, Namibia, isn't that the place that Cheney and Co. said that Saddam was trying to buy Uranium form for his WMD's?
They of course haven't found the WMD's yet… but the rhetorical question is, are they still looking? I mean they were absolutely sure Saddam was about to attack America with an Atomic bomb, and they used this unseen invoice; I guess it was an invoice or something like that, as part of their proof.
OK later, in regards to the Namibia link they said, Oops we made a mistake the document was forged. But the questions remains, what was the providence of the document referred to, where did they get this document from… or was it just found online and they thought 'It must be true'?
You know it's the little details like that that can do you in… and it would be interesting if someone would thoroughly investigate the providence of that document wouldn't it. I bet CIA, NSA & MI6 won't want to go there… curiouser and curiouser eh?
Comments