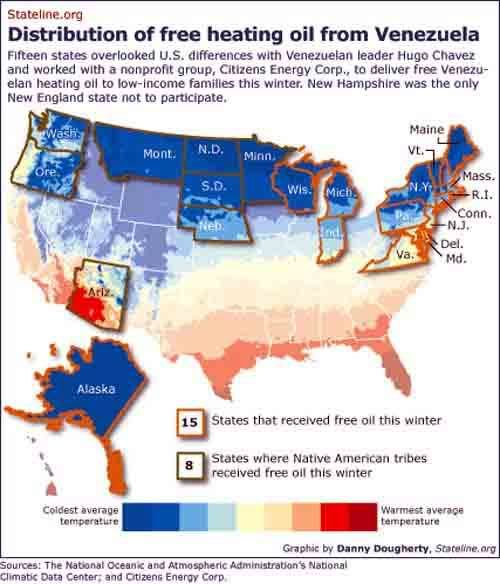 Photo: Stateline
The first time I saw Hugo Chavez I had a good feeling about him, and later I thought it was good to see a true man of the people, voted in as President of Venezuela. No doubt however, those who were responsible for the appalling Oil War in Iraq, will continue to work against Hugo Chavez and the poor in Venezuela, as they do in the US and elsewhere.
This imperial terrorism done in Venezuela and Iraq, as well as in uncounted other countries, is all done on behalf of the International Banks, who control the Oil companies, who's humongous profits are threatened by the actions of natives. The hide of these natives believing that the Oil in their country belongs to all Venezuelans… I mean who do they think they are, democratic or something!
For the record Norway; my mothers place of birth and where I lived for almost two years, also Nationalized it's Oil… instead of the profits inflating the bank accounts of the chronically greedy and criminally sociopathic, the money went to paying off the countries debts and investing in things like education, health and roads etc.
Norway now has an enviable standard of living, they still have high taxes, but they are getting what they pay for, unlike in the US or my adopted country Australia; though now we've got rid of John Winston Howard (Bush's deputy sheriff) things may change for the better.
I have reprinted in full the material below by Vicki Ekstrom between the quotation marks because I as an Australian found it interesting and I thought many may have missed it.
POST CONTINUES
"Close to 200,000 poor families in 15 cold-weather states — in every Northeastern state except New Hampshire — can thank controversial Venezuelan President Hugo Chavez for helping them heat their homes this winter.
The Venezuelan-controlled oil-refining company, Citgo Petroleum Corp., donated 45 million gallons of free home heating oil this winter in a move that bought good publicity for the country's socialist leader, who famously called President Bush "the devil" in a 2006 United Nations speech.
But New Hampshire's lack of participation in this year's free-oil program shows that accepting oil from Chavez, a frequent critic of the U.S. government, touches a political nerve.
"There's the thought that by participating we're somehow helping Venezuela and Chavez and that it's not something good for the U.S. government," said Gale Hennessey, director of Southern New Hampshire Services, which works with the state to administer aid to low-income households.
Venezuela's offer of free oil this winter came as the U.S. economy was slumping, federal assistance through the Low Income Home Energy Assistance Program (LIHEAP) had dropped and home heating-oil prices hit a record high at more than $3.50 a gallon, according to the U.S. Department of Energy's Energy Information Administration database of monthly prices since 1990.
The almost 200,000 American families helped by Venezuela this winter is small compared with the almost 6 million families helped through LIHEAP. But LIHEAP was able to help only about 16% of families needing assistance, so Venezuela's program helped to fill a void until its supplies were exhausted early this winter season." – by Vicki Ekstrom, Special to Stateline.org
Website: Stateline
Comments