Photo: Stumble


What a great set of statues… if anybody can tell me where they are please do.
I do love horses, I used to love watching them storm around the paddocks, I don't ride them, I just pat them and introduce them to weird foods like toffees and chewing gum… it's a form of entertainment for me, and I guess the horse to.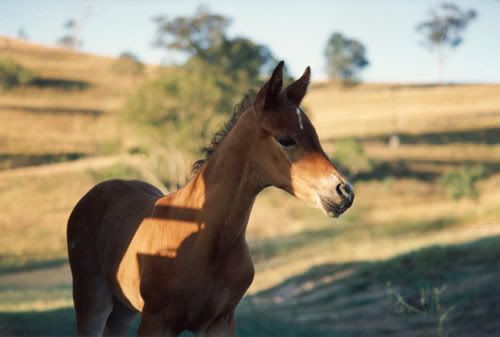 Photo: Beam
Excuse me for being self indulgent. The filly above's name is Chic… it was a play on words, she's a pure bread Arab (Arab Sheik). Anyway, she was a total doll, with an unusual blaze on her forehead. The mother however, was a domineering total bitch, who lorded over everyone with the exception of my mother, who had hand raised her, and yours truly, who taught her, 'Don't screw with the Hippie', and if the Hippie wants to pat you, let him, because he will follow you around all day till you give up and let him.
The photo of Chic was when she was one week old, the mare Sarah, tried her best to warn her I was a bad person to no avail, you see I'd taught Chic I tasted good, by dipping my finger in honey and slipping it into her mouth within that first week. In later life, Chic had the best temperament of any of our horses, nothing to do with me, that's just the way she was.
Comments