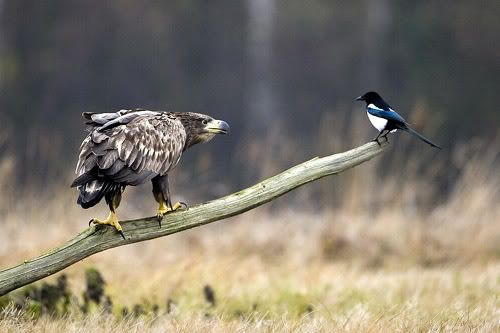 Photo: Fotografia
What a great shot. I'm a camera freak myself and I have had three such opportunities. The first was after a record frost on an airstrip, with all the ground and the tyre markers white with frost. All of a sudden a Robin with an incredibly red breast, landed not more than half a dozen meters from me on one of those tyres… with my camera about 30 meters away in side my bag in the hanger, bummer.
The second opportunity was I was parked facing a lake having a bit to eat, when a Pelican glided over my car and did a beautiful touchdown on the water, about 20 meters in front of me… and whilst it was settling in, fluffing up it wings, it was swooped from behind by a Huge Sea Eagle. The Eagle never made contact, I think it was just screwing with the Pelican. Again it had happened too fast for me and my camera was out of reach… I hate that!
Opportunity number three. I'm again at an airstrip. I'm camped next to a tree that's been hit twice by lightning and is half dead. I've had an early afternoon crash; I'd been working since about 5am, and would be still at it till about 10pm, so I had a siesta. When I got up the aforementioned tree was literally covered with Magpies and Galahs. 90% Magpies one side 90% Galahs the other side… it was sooo freaky, and my cameras were about 40 meters away in the camera room, dis_a_point_ed!
So I can say when I see freaky shots like this that I'm green with envy.


Comments