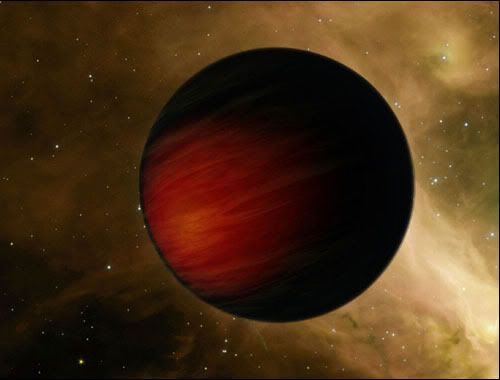 Photo: Planet HD 189733b, Discovery Channel News
Methane on another planet
Astronomers announced on Wednesday that they had detected the existence of methane in the atmosphere of a planet 63 light years from Earth. The fact that methane has been found on another planet other than Earth has boosted the prospects that life could exist outside of our Solar System, albeit that this particular planet (Planet HD 189733b) appears to be way to hot to sustain life.
Details of Planet HD 189733b
Planet HD 189733b is in the constellation of Vulpecula, or the Little Fox. The planet is of a type of large planets called "hot Jupiters, it's surface is scorched and liquid water could not exist.
"HD 189733b is closer to its star than Mercury is to our sun. It takes only two days to complete one orbit and has a sweltering temperature of 1,650 degrees Fahrenheit — hot enough to melt silver."
The major importance of this discovery though, is the existence of methane, this means that if methane is on other planets, than some of the essential ingredients of life exist outside of our solar system.
POST CONTINUES see the discovery news video

Video: Discovery news

Website: Methane found on another planet

Comments