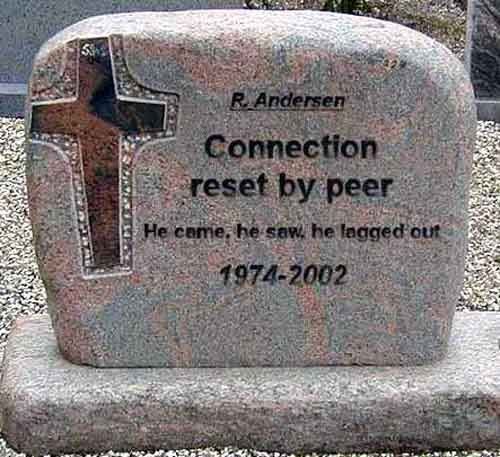 Photo: Stuff U Can Use
This is sad in that the guy was only 28 years old. But the 'Connection reset by peer' is hilarious, as is the 'He came, he saw, he lagged out'. It could be that the stone mason mis read the 'o' in logged for a 'a' and hence the 'lagged', or R. Anderson could have been, like myself been dyslectic.
As for my tombstone, there will be non. I have the same attitude as when I was about 3 and was taken to my first funeral. I apparently asked my mum what it was all about and when she told me I was told I exclaimed "Why didn't they just stick him in a bin?" They can take what they want, burn the rest and flush my ashes down the toilet for all I care… I certainly don't want good land being wasted on burying what's left.
Website: Stuff U Can Use
Comments