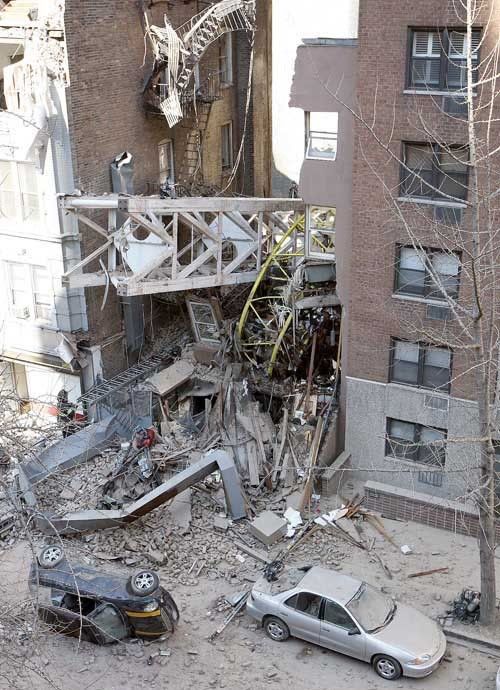 Image: AP
"NEW YORK — A construction crane as tall as a skyscraper ripped free from its moorings Saturday and fell like a tree across a Manhattan block, destroying buildings, killing at least four people and setting off a scramble for survivors in the rubble."
"Mayor Michael Bloomberg said at least 10 others were injured in what he called one of New York City's worst construction accidents. The dead were all believed to be construction workers."
"It is a tragic event," Mr. Bloomberg said, adding, "Our hearts go out to all the victims and their families."
POST CONTINUES
"The big, white crane stood at least 19 stories high and had been attached to the side of a half-built high rise. When it toppled from its base on the sidewalk, part of it landed on a four-story brownstone, and turned it into a pile of brick. Three other buildings had parts of their walls and roofs smashed or torn away."
James Kennelly, the lead partner at East 51st Development Company, which owns the property, issued a written statement expressing the group's dismay over the accident.
"There are no words to describe the level of devastation we feel today as a result of this tragic event," he said. "Our heart and prayers are with the families of those who died in this horrible accident. We are also praying for a full recovery for the individuals who have been injured today."
City officials said they had issued 13 violations to the site in the last 27 months, a normal amount for a project of that size. Inspectors examined the crane Friday and found nothing wrong with it.
The catastrophe comes amid a building boom in New York City and follows a spate of construction accidents in recent months, including some involving cranes, though none as massive.
Earlier this year, a crane's nylon sling broke away and dropped seven tons of steel onto a construction trailer across from ground zero, injuring an architect. Last month, a worker at a Donald Trump hotel-condominium tower in SoHo plummeted 40 stories to his death when a concrete form gave way.
New York Crane was involved in a 2006 mishap, in which a 13-foot piece of a crane mast that was being dismantled fell into the street and crushed a taxi cab.
See the full story at Globe and Mail at the link below.
Website: Globeandmail.com
Comments