Crystal Cave of Giants: Biggest crystals on the planet.
When I first saw the photo below I thought, wow, no wait a minute that might be faked. But no it's real and it's like something out of 'Journey to the center of the Earth'.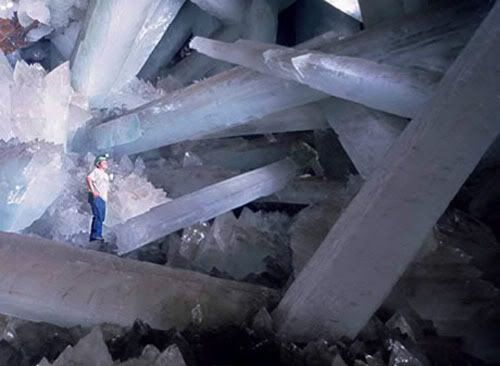 Photo: Stumble
Its most definitely not fake and the video is even more impressive… as are some of the other videos.
POST CONTINUES

Video YouTube
The accompanying YouTube notes I felt were best left intact and are included herein.
"The Naica Mine of Chihuahua, Mexico, is a working mine that is known for its extraordinary crystals. Naica is a lead, zinc and silver mine in which large voids have been found, containing crystals of selenite (gypsum) as large as 4 feet in diameter and 50 feet long. The chamber holding these crystals is known as the Crystal Cave of Giants, and is approximately 1000 feet down in the limestone host rock of the mine. The crystals were formed by hydrothermal fluids emanating from the magma chambers below. The cavern was discovered while the miners were drilling through the Naica fault, which they were worried would flood the mine. The Cave of Swords is another chamber in the Naica Mine, containing similar large crystals.
The Naica mine was first discovered by early prospectors in 1794 south of Chihuahua City. They struck a vein of silver at the base of a range of hills called Naica by the Tarahumara Indians. The origin in the Tarahumara language seems to mean "a shady place". Perhaps here in the small canyon there was a grove of trees tucked away by a small canyon spring.
From that discovery, until around 1900, the primary interest was silver and gold. Around 1900 large-scale mining began as zinc and lead became more valuable.
During the Mexican Revolution the mine was producing a great deal of wealth. Revolutionary troops entered the town and demanded money from the owners. One of them was assassinated when he refused to pay, causing the mine to shut down from 1911 to 1922.
Just before the mine was closed, the famous Cave of Swords was discovered at a depth of 400 feet. Due to the incredible crystals, it was decided to try to preserve this cave. While many of the crystals have been collected, this is still a fascinating cave to visit. In one part there are so many crystals on one of the walls, they appear to be like an underwater reef moving in a gentle undulating motion in an ocean current.
In April 2000, brothers Juan and Pedro Sanchez were drilling a new tunnel when they made a truly spectacular discovery. While Naica miners are accustomed to finding crystals, Juan and Pedro were absolutely amazed by the cavern that they found. The brothers immediately informed the engineer in charge, Roberto Gonzalez. Ing. Gonzalez realized that they had discovered a natural treasure and quickly rerouted the tunnel. During this phase some damage was done as several miners tried to remove pieces of the mega-crystals, so the mining company soon installed an iron door to protect the find. Later, one of the workers, with the intention of stealing crystals, managed to get in through a narrow hole. He tried to take some plastic bags filled with fresh air inside, but the strategy didn't work. He lost consciousness and later was found thoroughly baked."

Special thanks to YouTube for this


Comments