Although I'm a relevantly recent but ardent D&D gamer, I did actually have the chance to play some 25 or so years ago. Sadly I did not take up the opportunity, partly because of work, study and I admit because it sounded dorky (geeky). Since my first game I have regretted that uninformed decision about as much as I have regretted anything.
Gary Gygax, the creator of Dungeons and Dragons has died, somehow I feel it's not for me to to write an obituary so I went looking for someone more suitable.
Few will believe this, but it was only today that I decided to post a series of YouTube videos on D&D. I'd Stumbled across the D&D YouTube footage, reviewed about 22 of them, ironically 21 'Inspiration', was the one I was having a problem with, so I thought I'd pick that up later… freaky eh?
Anyway, I'd decided to do an extra post per day on PaleBluDot till the series is finished thinking the D&Ders would love it; even if they have seen them, whilst the non D&Ders might decide to hunt around an see if they could get a start.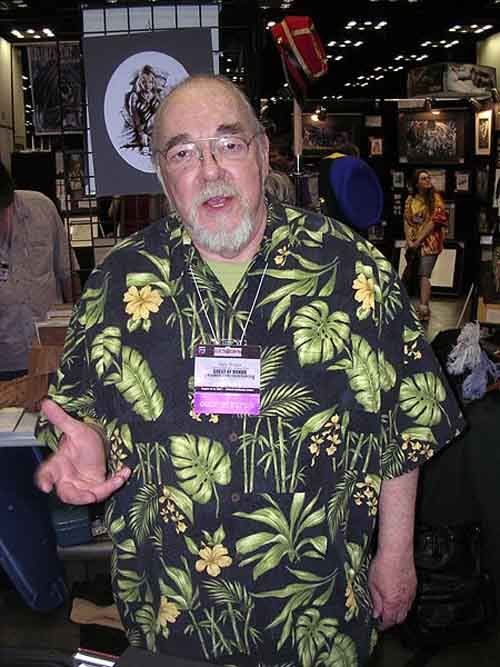 Photo: Gary Gygax Gen Con 2007 – Wikipedia
A homage to the man behind 'Dungeons & Dragons'
Posted by Jim Kerstetter of c/net NEWS.com
Gary Gygax helped keep me out of trouble when I was in junior high school.
I was saddened earlier Tuesday to hear that Gygax, the co-creator of Dungeons and Dragons and the father of modern role-playing games, has died. He was 69 years old. My CNET Reviews colleague Will Greenwald has already written about Gygax's role in the gaming community.
For many of us who grew up before PCs became ubiquitous and long before it was cool to be a geek, Gygax's creation meant Friday nights spent playing games with your friends, not wishing you were someone else. Instead of finding creative ways to break the law, we were busy rolling 20-sided dice and doing battle with Orcs and other evil beasts.
It was a fantastical world for adolescents. Gygax managed to mix The Lord of the Rings and mythology with comic book adventures. Naturally, there were absurd D&D-related scares in the early-1980s regarding kids delving into Satanism and disastrous episodes of real-life sword fighting. (I always thought if kids were dumb enough to fight with real swords, they had bigger issues than the influence of a role-playing game).

READ THE REST AT:-
Website: c/net NEWS.com
Comments