An extremely promising solution for climate change by replacing Coal power stations is here and it is US based Ausra Inc who has the solution with it's Solar thermal technology.
The technology was originally developed in Australia by Dr. David Mills. Unfortunately for the Australian economy Dr Mills had to take his technology to the United States to get the funding he required to continue this technology through to production stage.
We believe that Ausra Inc's Solar thermal technology may just be what the world has been looking for in it's fight against climate change.
So how does the Ausra Solar Thermal System work?
Ausra uses a technology called, Compact Linear Fresnel Reflector (CLFR). This idea was originally conceived in the early 1990s by Ausra's founders in Australia. The system works by reflecting sunlight off mirrors and onto a collecting tube, this tube is filled with water and as such will produce high temperature, pressurised steam. The steam then drives a turbine generator which produces electricity. (see image below)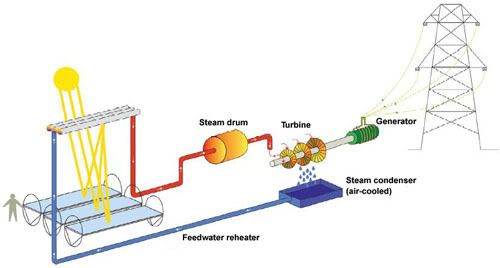 Image courtesy of Ausra Inc
Ausra have recently signed a major contract with Pacific Gas and Electricity to supply baseload power for California in the US.
To see the full story at PaleBluDot click the link below.
Website: Ausra Solar Thermal story at PaleBluDot
Comments