lets hope the Spammers don't try the same… and anyway, what do you do if you want it shortened?

Photo: Jim Ingraham NOAA Fisheries

"Curt Ebbesmeyer says that when investigating the paths of ocean currents, he uses every tool available. He studies satellite images and data from buoys. He tosses objects into the water to see where they go."
"In January 1992, his toolbox grew even larger. A storm washed several containers from a ship bound from Hong Kong to Tacoma, Washington. One container carried 29,000 bathtub toys. Ten months later, plastic ducks, turtles, frogs, and beavers began washing up near Sitka, Alaska. A new experiment had begun and Curt's career as a pioneer in the study of floating debris was in full swing."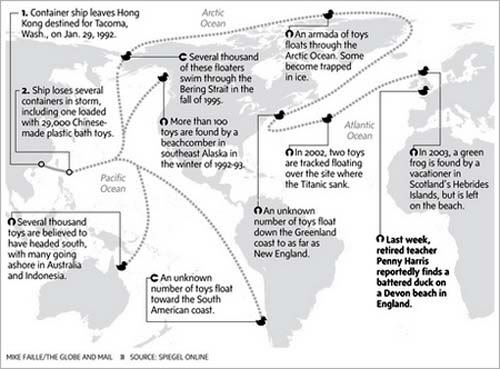 Chart Image: International Marine Consultancy
These bath toys have over the years turned up throughout the world's oceans and true to plastic will continue to do so for sometime yet. I'm reasonably sure that soon they'll probably turn up insides the gut of fishes and whales… the strange thing is though, all the photos I've seen previously have differed from the plainer selection of bath toys seen on Curt's arm.
Website: Ocean Motion and surface currents
Comments