Photo: The Matra MS1 Electric Bike
I am a big fan of what we call 'Pushies' in Australia. If I need to go to Sydney my bike goes with me on the train, which means I can read, listen to music, play with my laptop or palm or sleep, thereby bypass the traffic and stress of driving. Also once in Sydney I can get around a lot faster and parking is no problem… it's a win win, I don't contribute to the traffic, pollution, it saves gas and I get a bit of a work out, cool eh?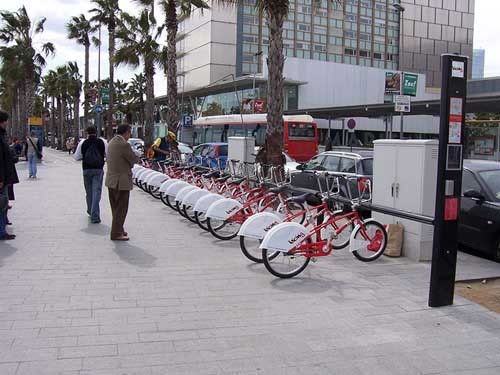 Photo:Barcelona's Community bicycle program Wikipedia
Now concerning the eBike in the top photo. I'm still trying to make up my mind which electric bike I prefer (to help with the occasional hill), and the choice is getting harder because there are many more now on the market. Soon these eBikes will be very popular and this in turn will force national, state and local governments to provide more space on public transport for our bikes, more cycle lanes and parking stations for Pushies… who knows the authorities may even see the obvious benefits to Community bicycle programs such as the one starting up in Barcelona Spain, with similar programs in Holland, England & the US.
Comments