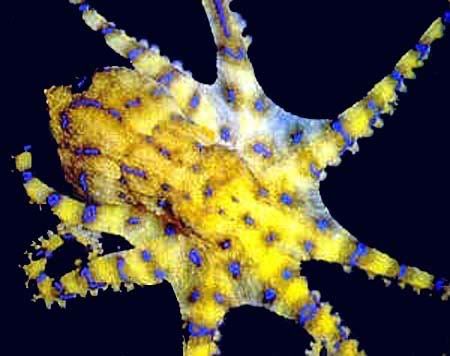 Photo: Photo: Blue Ring Octopus – Hapalochlaena maculosa – Earlham College Biology Department
The poisen of the Blue Ring Octopus is said to be 10,000 times more potent than cyanide… and there is no known antidote. The bite can leed to paralysis, respiratory arrest and finally death if artificial respiration and heart massage is not carried out on the victim and maintained till the toxin washes out of their system.
This little; not much bigger than a golf ball, somewhat attractive, innocent looking creature can be found widely from Australia to Japan, it can be found in rock pools and as down far as 20m deep. The fact that it's atractive and can be found in rock pools means that kids should be tought about it since it's just the sort of thing that they would be attracted to if not warned.
Website: Wikipedia
Comments