Video: YouTube
The Japanese really like their funny game shows. They always give me a laugh too.
Website: JapanProbe.com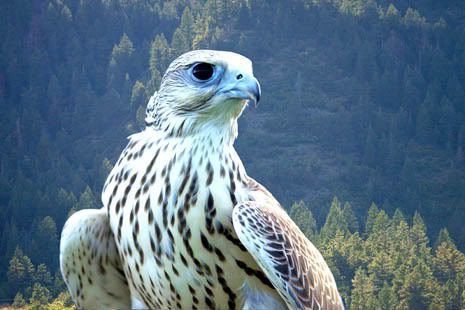 Photo: U.S. Air Force, by David Armer via Wikipedia
"U.S. AIR FORCE ACADEMY, Colo. — The newest addition to the academy's falconry program, Yeti, looks for his trainer after being unhooded. This hybrid white gyrfalcon and saker falcon can exceed 200 mph in a dive. Yeti is training for performances and public appearances."
What an awesome looking bird!
Website: Yeti, the US Air Force Falcon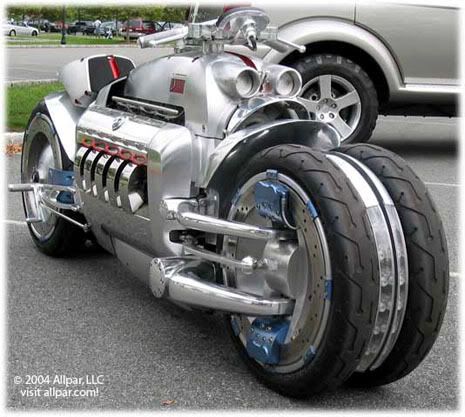 Photo: Dodge Tomahawk Motorcycle
"The Tomahawk is a Viper V-10 based motorcycle, a 500 horsepower engine with four wheels beneath it. The engine breathes through twin throttle bodies mounted right up front. (That's what the two round things above the front tires are)."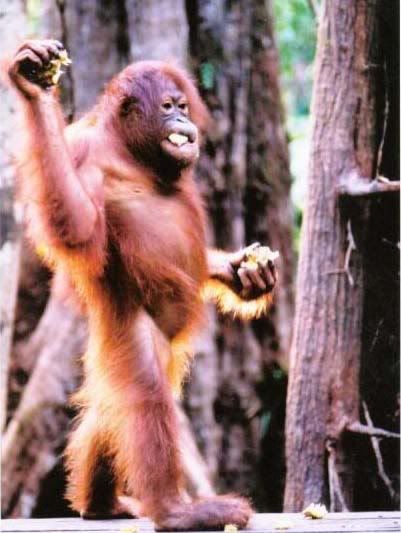 Photo: Wikipedia
Website: Orangutan on Wikipedia

Video: YouTube
Most of us would have seen the TV show Heroes. This video is a funny take on the story.
Then: The ENIAC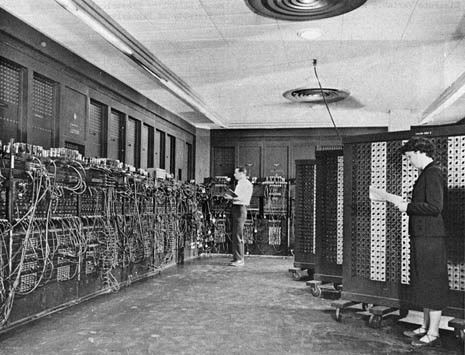 Photo: Wikipedia
ENIAC is short for Electronic Numerical Integrator And Computer.
The ENIAC was the "first purely electronic , 'Turing-Complete' digital computer." Basically this means that it was the first machine that could take a finite input and return a finite output in a finite number of steps.
The ENIAC was designed and built to calculate artillery firing tables for the U.S. Army's Ballistic.
The ENIAC was massive compared to modern PC's. It contained 17,468 vacuum seals, 1,500 relays, 7,200 crystal diodes, 70,000 resistors 10,000 capacitors and around 5 million soldered joints. The weight was 27 tonnes and it was approximately 8.5 feet by 3 feet by 80 feet (2.6 m by 0.9 m by 26 m). Oh and the it consumed 150kW of power.
"Input was possible from an IBM card reader, while an IBM card punch was used for output. These cards could be used to produce printed output offline using an IBM accounting machine, probably the IBM 405."
The ENIAC cost almost $500,000 when finished in February 1946 remained in operation until October 2nd 1955.
As of 2004 a chip of silicon measuring 0.02 inches (0.5 mm) square holds the same capacity as the ENIAC, which occupied a large room.
and
Now:Sun SPARC Enterprise M4000 Server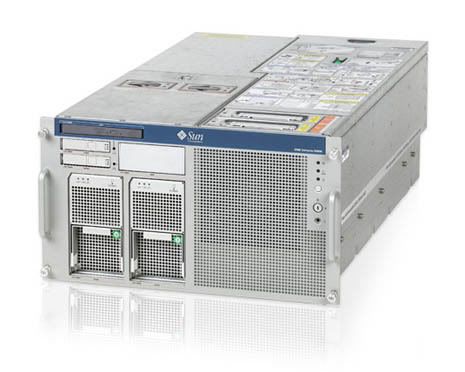 Photo: www.sun.com
Below I have included some details of a current SUN Sparc Enterprise M4000 Server.
You could fit 2 to 3 of these servers on your average size kitchen table.
Price (standard) $ 99,000.00
Sun SPARC Enterprise M4000 server, 4 x 2.15 GHz SPARC64 VI Processors (2 CPU boards with 2 CPUs each and 5 MB on-chip L2 cache), 32 GB system memory (2 memory modules with 8 x 2 GB DDR2 DIMMs), 2 x 73 GB SAS disks, 1 DVD-ROM, 2 Gigabit Ethernet ports, 1 I/O tray with 4 PCIe and 1 PCI-X slots, 2 power supplies (110V or 220V with 1N redundancy).
With extra warranty a tape drive and a few bits and pieces this Sun server comes to $114,613.00.
Still its not expensive when compared to half a million to build the ENIAC in 1946.
By the way, you could fit more processing power into the little on/off buton on the front of this Sun Server than 2 or 3 ENIACS put together. Sort of scary when you think about how far we've come in a relatively short time.
Websites: ENIAC on Wikipedia and Sun Solaris

View Larger Map
Google Maps
You often hear jokes about 'the end of the World', in Australia we may say 'Outback' or the other side of the 'Blackstump', one might even say, 'It's not the end of the world… but you can see it from there', there just words, Google Maps will allow you to see where they actually live (back up the map a little to appreciate), and have possibly done so for over 60,000 years, going back to when central Australia was not quite so arid.
Website: Warakurna Community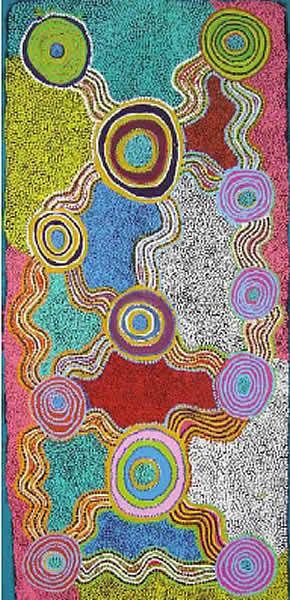 Photo: Peter Lewis's Tingari Men Camping At Merunjarra
They call it 'Primitive Art', more words that somehow don't quite measure up, these painting may tell a story, give a tribal history… or they could in fact be maps describing in detail where to find water.
Shorts S23 Empire Flying Boats of the mid 1930s.

Video: YouTube
Of course these aircraft were used to service the British Empire… back in the days when it still had an empire.
Airbus 380 – Test Flight New York some 70 years later.

Video: Popular Mechanics via YouTube
Do you ever get those thoughts that just pop out and leave you… perhaps just a little disturbed. Well the thought that popped into my mind was how much the huge staircase, bar and the sleeping accommodation reminded me of the Titanic… even the name Titanic seemed to fit.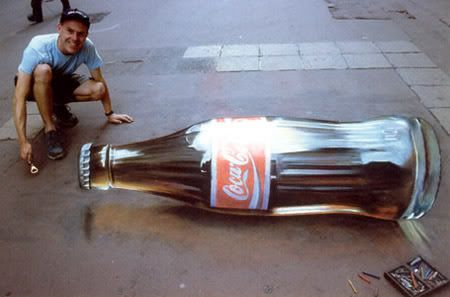 Amazing, totally amazing, how did he manage to draw himself so life like… and where did he get that enormous coke bottle?
Website: Julian Beever Pavement Art.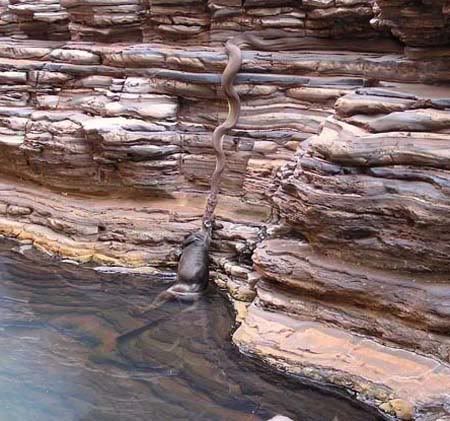 Photo: Unknown
We breed some pretty big snakes here in Australia. This King Brown Snake obviously objected to the kangaroo having a swim in it's waterhole, so it killed it and now it looks like it's going to eat it.
Website: Aussie Cynic
Comments